Wedding crèches are the new child-inclusive trend that's costing people nearly £4 million every year
Do you think they're a good idea?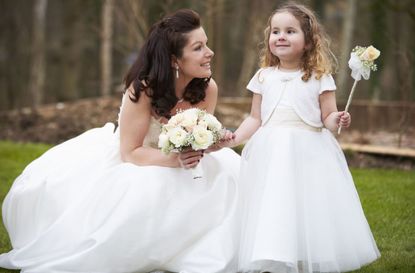 Many parents often face the dilemma of what to do with their children when it comes to wedding season, especially when kids are banned from attending the ceremony.
But now there's finally a way that your little ones can be included in someone's big day without the worry of tantrums or distractions – wedding crèches.
According to research by Childcare.co.uk, the new wedding trend has seen a 168 per cent increase in the demand for wedding nannies in the last two years, with people spending nearly a whopping £4 million every year on making sure children are cared for during the festivities.
The website also claims that on average, parents in the UK are spending around £335 per wedding on crèche services, with the number of nannies now offering to be a wedding babysitter increasing by 118 per cent in the last 12 months.
Nannies who offer the service, who will work upwards of 11 hours per wedding, believe the main reason for the increased demand is 'couples having children before marriage', while another big reason was couples wanting to have children at their wedding without any hassle during the day.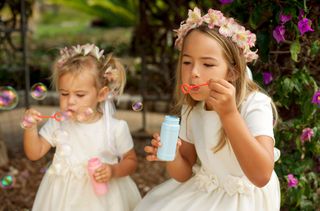 Another big worry for parents was finding suitable childcare services when an overnight stay is required for a wedding, or when lots of travelling is involved.
Richard Conway, Childcare.co.uk's co-founder, said: 'I've been to lots of weddings, some with children and some without, but I always feel that it's just that little bit more special when everyone's there, not just the adults. When children aren't allowed at a wedding, it often means that some parents can't come anyway, as lots of parents won't want to leave their new-born with someone else or can't afford to on top of the cost of attending the wedding.
'It's crazy how quickly this service has become almost a norm for millennial weddings, but I can see why it's so popular – no one wants a toddler screaming through the service! Weddings are such beautiful events, and we're glad that people are finding ways through the site to make sure no one misses out.'
Parenting advice, hot topics, best buys and family finance tips delivered straight to your inbox.
A Freelance Writer and Content Editor, Jenni has been working on the women's lifestyle team at TI-Media on and off for over three years. She writes about your favourite celebrities and TV shows so you never miss an update. Jenni also writes beauty news and features - so for all of your skincare and make-up needs, drop her a line.