'Hand on heart, I felt no pain!' What every woman should read BEFORE she considers a hypnobirth
'The classic moment women beg for drugs, cry for their mums, insist they can't do it, won't do it...'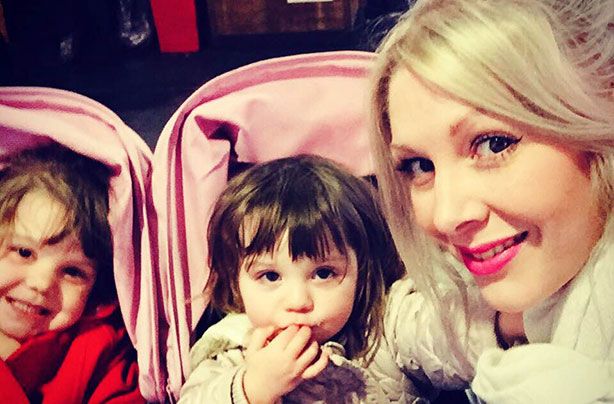 Mother-of-two daughters, Mia and Lily, Lottie Daley speaks to us about her hypnobirthing (opens in new tab) experience - celebrity fans, horror birth stories, and why it's not all rainbows and fluffy kittens.
Hypnobirthing was still relatively new and not many people had heard of it when I decided to do a course in London with Katharine Graves.
My father-in-law is a hypnotherapist and had heard wonderful things about how hypnosis techniques applied to childbirth helped women have really positive birth experiences.
Then my father gave my husband and I a hypnobirthing course, which we attended together when I was 30 weeks pregnant.
For my first baby I was like many other mums, quite set on a hospital birth as I felt it was right for me. However, once I got into the course and understood what my body needed to feel for birth to be comfortable or even pain free, I changed my mind and opted for a home birth (opens in new tab).
I didn't know anyone at all who had done hypnobirthing in 2011. It didn't seem to be very mainstream and certainly no UK-based celebs had caught onto birth's best kept secret - yet.
I must admit I did think it might be a bit hippy with visualising rainbows and fluffy kittens, maybe some chanting about being positive or something silly - the reality was very different.
The first day opened our eyes to how birth could be if I could just remove all those negative beliefs I had about my body's ability to give birth - crucially, removing the ingrained fear.
I had only ever seen horror births on the telly, I hadn't heard one positive birth story at all in my entire life, and no mother I knew had a good word to say about it, beyond saying it was worth every agonising second.
I couldn't understand how it could be different, but it was just so obvious when Katharine (opens in new tab) explained what my body needed, how powerful my mind was and how I could actually control how things went. I left the first class feeling so positive and excited about the big day!
At the time it was rumoured that Kate Middleton was doing hypnobirthing...
... and judging by her breezy exit from St Mary's after welcoming each of her babies, it would be a fair assumption to conclude that she did!
With my second birth two years later, I immediately dug out Katharine's Hypnobirthing Book - and booked into a local hypnobirthing teacher for my refresher.
By this time, several celebrities were jumping on the bandwagon, people in my class were doing it in conjunction with a qualified hypnobirthing teacher and Katharine had started to train midwifes in University College London hospital so that they were au fait with women practising her method when they came into the birth centre.
My partner was sceptical first time around, and certainly it looked as though half the men had been dragged their by their bits...
However, after class one, when they got to grips with the logic, simplicity and the science part, they were totally on board.
It was a joy to become closer to my partner, and instead of moaning about the men doing nothing, they had 'stuff to do' which men seemed to really revel in.
They weren't a spare part, they were really part of the birth experience and I think this helped my partner bond with our daughter without feeling left out, especially as I was breastfeeding.
Both my labours were very different yet hypnobirthing made an enormous difference - I don't think anyone has ever said they wished they hadn't have done it!
Crucially, you learn how to handle the unexpected if it crops up so you never feel out of control, as so often happens on birth programmes like One Born Every Minute.
My first labour was medicalised as I had a premature birth, which scuppered my home birth plans. But the course taught me that sometimes birth throws a curve ball and when it did, I understood why and was part of the decision making in my unexpected turn.
I'm certain that this made the world of difference and allowed me to view my birth as positive, even though it was far from what I wanted.
My second birth, however, had no complications and I was set for my dream home birth. To be brutally honest, as I had a toddler in the house there was zero time for the zen-like bliss I had seen on the birth videos, infact my toddler spent the entire day in the birth pool! This meant that when she did go to bed, my body relaxed and birth ensued - at super speed!
That's the thing about bodies, when we feel anxious or unsure, our bodies halt labour until we feel it's safe, private, calm and relaxing enough to do so. With my toddler in bed my labour sped up and I must admit, I found it arduous and challenging.
I made lots of weird animal guttural noises and I mooed and I swore a bit too!
It felt really good to use my voice - I discovered that you can be noisy and it still be a hypnobirth!
I guess another one of my preconceptions was that all hypnobirthing mamas were in a trance, sleepy, dreamy and silent, where it was most definitely the opposite at times in our living room!
Lottie with her two children
The surges - Katharine taught us that the word surge was better than contraction as surges ebb and flow just like the sea, which ties in nicely with visualisations - were hard going and I did find them pretty painful.
But compared to my first labour, where I was struggling to cope and requested an epidural at 5cm, I was fully dilated and it was only when I experienced transition - the classic moment women beg for drugs, cry for their mums, insist they can't do it, won't do it, and are actually not going to have a baby at all - did I do pretty much all of the above!
Alas, it only lasts around 10 minutes, pretty normal for many women and is a sign birth is super imminent.
Literally, the moment my baby was ready to be born, the pain disappeared. The reason is that the first part of labour, 0-10cm dilation, the UP stage of labour, was challenging for me, and it's the part of labour where you must surrender to the process and let your body do what it needs to do.
This is where the visualisation is paramount, you focus your thinking brain on the visualisations so that your primal brain can produce the hormones needed to get you to the comfortable part.
Oxytocin is the crucial hormone you need to produce because the more you produce, the more effective your surges will be and the more comfortable the birth will feel. When you hold your breath or feel afraid, you can't produce it, and your uterus sort of ceases up, which is why birth can be excruciating.
Obviously there's far more to it, but you'd need to do the class to find out!
Now my experience isn't everyone's experience, because we're all different, but I coped with the pain, I worked with the pain, and I viewed the pain positively thanks to the tools Katharine taught me.
The hypnobirthing experience that we all imagine before we take the course, that we tend to see on the videos, this happened to me when I was ready to push. All of a sudden, I felt the most insane urge to push, and the pain just went. In its place was pressure, but it was fine.
I then fell into a trance thanks to all the practising I was doing, and I gave birth to her myself in the pool.
Hand on heart, on my daughter's life, I felt no pain!
It was the most amazing experience I've ever had, I felt so empowered, in control and a total goddess! The important thing to remember about hypnobirthing is that the course prepares you for everything.
The control we all seek in birth prep classes comes from within us and when we master that, birth can be the most uplifting, incredible experience you'll ever have.
I'm so fortunate that I found hypnobirthing and I'm so pleased that it is becoming more and more widely available and accepted as a very sound antenatal option for women, birth partners and their babies.
Positive birth is everything, and hypnobirthing really gets to the bones of it, and helps you help yourself to make that happen.
Katharine Graves is the founder of KG Hypnobirthing, a complete antenatal training programme. She teaches both parents to be and new hypnobirthing practitioners the Royal College of Midwives Accredited Teacher Training Course. To find a KG Hypnobirthing teacher in your area please visit our teacher training directory (opens in new tab).
Trusted, informative, and empathetic – GoodTo is the ultimate online destination for mums. Established in 2007, our 15-year-strong archive of content includes more than 18,000 articles, 1,500 how-to videos, and 7,000 recipes.