What is sepsis? Everything you need to know
A helpful guide for parents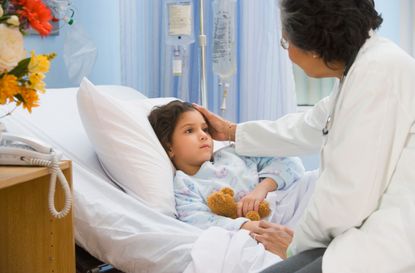 (Image credit: Getty/ Blend Images - Jose Luis Pelaez Inc)
GoodTo newsletter
Sign up to the GoodTo Newsletter. You can unsubscribe at any time. For more information about how to do this, and how we hold your data, please see our privacy policy
Thank you for signing up to . You will receive a verification email shortly.
There was a problem. Please refresh the page and try again.
Sepsis is a dangerous condition that can potentially be fatal, yet it's hardly ever talked about. Read our guide on the condition, which includes sepsis symptoms and causes.
An estimated 37,000 people die of sepsis each year in the UK, and a staggering 100,000 people are admitted to hospital with the condition.
Figures collated by Prof Sir Brian Jarman have revealed that sepsis deaths recorded in England's hospitals have risen by more than a third in recent years - with 15,722 people dying because of the condition in hospital or within 30 days of discharge.
Back in 2015, sepsis hit the headlines when Charlie Jermyn died of sepsis only 30 hours after he was born, after a midwife failed to recognise the little boy's symptoms.
In December 2014, one-year-old William Mead was suffering from sepsis, caused by an underlying chest infection and pneumonia, but the condition was not spotted by GPs, out-of-hours services and a 111 call handler.
William's mum, Melissa Mead, was told by doctors 'not to worry', but a report investigating her son's death found that 'William would probably have survived', had 'different courses of action been taken'. She's since been working to raise greater awareness among GPs and parents, and has teamed up with Public Health England, The UK Sepsis Trust and the Department of Health to create a Public Awareness Campaign for Sepsis.
https://www.facebook.com/amotherwithoutachild/videos/1286370781386411/
But what is sepsis and how can you spot it? Here's all you need to know...
What is sepsis?
Sepsis is a potentially life-threatening condition triggered by an infection, which causes the body's immune system to go into overdrive.
This overworking of the immune system starts a chain of reactions, which include widespread inflammation, blood clotting and swelling.
These reactions lead to a significant decrease in blood pressure, which severely limits the blood reaching vital organs like the brain, heart and kidneys. If sepsis is not treated quickly, the condition can lead to multiple organ failure and death.
Sepsis symptoms
The early symptoms of sepsis usually develop very quickly so it's important to seek help as soon as they start to occur. Sepsis symptoms include:
- High temperature (fever) - Chills and shivering - Fast heartbeat - Fast breathing
If not treated, the condition can develop into septic shock, which is when blood pressure drops to a dangerously low level. At this stage, symptoms include:
- Feeling dizzy or faint - Confusion or disorientation - Nausea and vomiting - Diarrhoea - Cold, clammy and pale or mottled skin
In the case of severe sepsis or septic shock, call 999 and ask for an ambulance.
For more information, please visit the NHS information page (opens in new tab) for sepsis, or speak to your GP.
What causes sepsis?
Sepsis can be caused by an infection in any part of the body. The infections associated with sepsis include pneumonia, appendicitis, urinary tract infection, meningitis and, in some cases, flu.
In most cases, your immune system will fight infections locally, and stop them from spreading. However, if your immune system is weak or the infection is particularly severe, it can spread through the blood stream into other parts of the body.
In this case, the immune system goes into overdrive and the inflamation process is spread to the rest of the body. This widespread inflammation damages tissue and interferes with the flow of blood, which stops oxygen reaching your organs and tissues.
Who's at risk of suffering from sepsis?
Anyone can suffer from sepsis after an injury or minor infection, but there are people who may be more susceptible to the condition:
- Very young or very old people; - People already in hospital with a serious illness; - People with a weakened immune system - People who've just had surgery or who have wounds or injuries as a result of an accident
Children already in hospital may be more at risk of getting sepsis
Sepsis treatment
The key to an efficient treatment is to catch the condition as early as possible, so look out for symptoms if you children have recently suffered from a bacterial infection or are in any of the groups at risk.
If sepsis is detected before affecting the vital organs, it can possibly be treated by taking antibiotics at home.
In the cases in which the condition has already reached a more severe state, patients will have to get care from an intensive care unit (ICU), where support for vital organs can be provided.
Because of the problems it poses to vital organs, severe sepsis can be fatal, or make people very ill.