What really makes kids happy
What really makes your children happy? Here's what they said...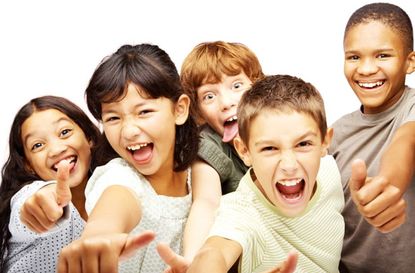 GoodTo newsletter
Sign up to the GoodTo Newsletter. You can unsubscribe at any time. For more information about how to do this, and how we hold your data, please see our privacy policy
Thank you for signing up to . You will receive a verification email shortly.
There was a problem. Please refresh the page and try again.
As parents, we all spend huge amounts of time trying to make our kids happy. Quality time together, stimulating activities, new toys, days out...
But what is it that kids these days really need to make them happy?
We asked our Facebook users to see what made their kids happy and here's what they said...
Jenny Davies My eight-year-old daughter said 'people saying rude things.' My five-year-old son said 'giving you (as in me, his Mummy) kisses & cuddles.'
Shelly Price My son aged five says 'when you tell me good things and get me good things and dont tell me off.'
Katy Eady-Motton Harriet (aged four) said 'my pillows.' Joseph (aged nine today) said 'my family.'
Nada Wilson My youngest Ben, who is four, said that kisses make him happy.
Amanda J Astbury Spending time with friends and family she says age 13.
Heather Playdon My five year old says 'Going to school.'
Clair Heath Chocolate and her little sister - aged five (Woody - aged two).
Stacy Hammond My four-year-old said mommy and daddy. My 13-year-old said going out with her friends.
Sharon Leavy My nine-year-old says ice cream, the dog, friends and reading. And getting good stuff.
Carla-Gayle Van Heerden My best friends (age seven girl).
Tracey Vakarian Haynes Monster High and her family ( from a Monster High obsessed seven-year-old).
Tracey Druce Charlotte: scooter, James: Nintendo DS
Suzzanne Emson My son, aged ten said 'My friends and family!'
Fran Garland-Rooney My little girl of 11 loves to listen to One Direction and my little son likes watching Matt Smith of Dr Who.
Lorna Johnston Me (mum) makes my Daughter happy (nine).
Kerri Sullivan Mcdonalds as a treat (think they are hoping) son and daughter aged three and four.
Lisa Taylor Henry aged five - cuddles.
Anne Alblas Lord of the Rings extended version (17-year-old!):-).
Marie McKay My 17-year-old said music and computer games lol.
Mel Clark My five-year-old son said mummy and the dogs.
Catherine Atkinson My 15-year-old lad said getting all my papers done (he has 400 to deliver over three nights). His 18-year-old sister said the weekend.
Julie Bridezilla Weston-Wilkes My 11-year-old daughter says 'Friends and family' and my 12-year-old son says 'food' lol.
Sonja Izaguirre My 12-year-old's immediate response was 'Harry Potter, chocolate and doughnuts!'
Julie Berwick My two girls aged three and five-years-old both said their furbys lol.
Sam Schofield My seven-year-old says playing makes her happy my 5 year old says playing with her friends
Jalila Djelassi Two daughters said JLS, one of my sons said football, my eldest daughter said Minions (from Despicable Me )
Join our discussion on Facebook (opens in new tab) now!
Where to next?