Why I'll NEVER start a social media account for my baby
40% of millennial mums, including tennis star Serena Williams, have Instagram accounts for their babies – but not me...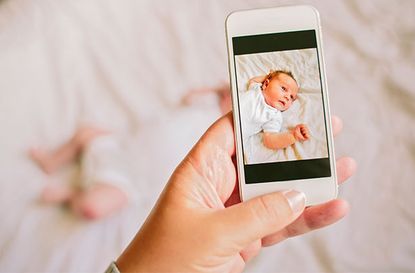 Okay, so quick disclaimer, I don't have a baby just yet... I am six and a half months pregnant as I type this - but you wouldn't know that, because I didn't share it on Instagram.
The art of over-sharing starts early when it comes to this complicated and mind-blowingly awesome job of building a baby, with some people sharing an image of their positive pregnancy test then a shot of their first scan even before baby's here.
So it's not surprising that a survey by Gerber.com showed that 40 per cent of mums aged 18 to 34 created social media accounts for their baby before the child's first birthday.
Sports star Serena Williams is one of the latest celebs to jump on the social media band-wagon, setting up an Instagram account for her firstborn, Alexis Olympia Ohanian, Jr.
At less than a month old, the tiny tot has already racked up 45.2k followers. I mean, she can't even keep her eyes open long enough for a snap, but she's still feeling the love, with over 31k likes on her first pic.
I genuinely believe each to their own; if you have an Instagram account for your kids then good for you. I, however, won't be doing that.
I don't even want to be the mum who floods my own Facebook page with pictures of any offspring I may have. That Facebook page is for me, it's my identity and I look forward to arguing with a future teenager that they're too young for their own, no doubt newfangled version, of Facebook.
'But, your mum lives in America - it'll be good for her to scroll through and see her grandchild,' is one of the most regularly recycled comments I receive.
And yes, I see that angle, of course I do. It would be lovely for my mum to see pics at the click of a button, and she can - just not on such a public platform as Instagram. Maybe more of a private family-only app like Lifecake.
Also, lets be honest... there are some pretty horrific family snaps of me from the 80's in our family album, and the thought of them being unedited an out there for all to see makes me... well, a little woozy and uncomfortable.
Like that time my mum thought she should cut my fringe (she couldn't) or those red cowboy boots I lived in from seven-to-nine years old because I thought they were the coolest thing ever (they weren't), and especially the time I should have listened to my mum about that blue eye shadow (I didn't) and lets not forget the shame of the gap-tooth years.
They're heart-warming images from my past, pictures of what made me, well, me. But they're not for public consumption, thanks. They're for when someone has made it to the 'inner circle' and my mum would sit them down with a cuppa and a 'trip down memory lane'.
Luckily - unlike baby names - my husband and I agree on this. 'It's the baby's decision, not ours, to plaster the internet with pictures,' he says, before flexing his dad jokes and adding: 'I'm not having it getting more likes than me.'
There's also the more important angle of mental health and bullying. Bullying is on the rise, with kids feeling bullied 24/7 because of social media. Why would I actively encourage that by giving them their own page from day dot? What I think is cute could end up being target practise for some school bully.
Plus, Instagram isn't real - it plays on mental health and makes people feel inferior with their own lives that they don't live up to picture perfect.
I love the saying: 'The perfect family is the one you haven't met yet' and it's true... because perfection doesn't exist IRL. However, on Instagram, 143 takes, a flattering filter and well placed hashtag and people think you have it all.
I want my little one to be real, to live real, and, growing up aside, once they've grown up it's equally unfair to not give your kid the edge in a cutthroat world. We all act a better version of ourselves when meeting new people, or at job interviews. An Instagram page set up by me 25 years ago strips them of that armour.
Also, by its very nature Instagram is just too public; it's there forever and it can be accessed. I know I know, there are privacy settings, but they can be lost with a simple update.
So, I'm sorry Serena, but I won't ever agree with your Instagram page for your daughter. Even more so because you're famous, she will already be a person of interest to many. Protect your daughter... that's what you're there for as her mum.
I think privacy is such a priceless concept - and it's unfair to rob your child of that.
What do you think? Would you start an Instagram account for your baby? Let us know in the comments box below.
Trusted, informative, and empathetic – GoodTo is the ultimate online destination for mums. Established in 2007, our 15-year-strong archive of content includes more than 18,000 articles, 1,500 how-to videos, and 7,000 recipes.