The REAL reason why kids' toothbrushes are coloured revealed
Did you know this?!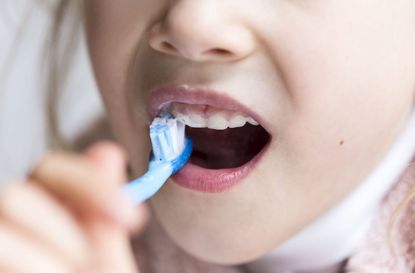 Have you ever been swayed by a toothbrush because of its appearance, hoping the pretty coloured bristles will make brushing your child's teeth just that much easier?
Well as it turns out there's actually a logical reason behind the style choice – and it's blowing parents minds!
Those coloured bristles are in fact 'toothpaste indicators', which are put in place to let you know exactly how much of the minty fresh gel you should be putting on your child's toothbrush.
One mum who discovered this shared her findings on Facebook, and it turns out she wasn't the only person who was completely unaware of the genius hack.
Holly Benn, mum to Noah, four, and 20-month-old Marley, shared the fact on her Little Learners Southport Facebook page in a post which has been shared almost 5,000 times in less than a week.
She wrote: 'Tell me I am NOT the only one who didn't know that the coloured bristles on children's toothbrushes are 'toothpaste indicators' that tell you where to put it and how much toothpaste to use!?'
https://www.facebook.com/LLSouthport/photos/a.452699481750839.1073741828.446614152359372/620586578295461/?type=3&theater
It seems not many people in the group was aware of it either, as many parents commented admitting they have been using too much toothpaste.
One parent said: 'I didn't know that either never really thought about what they were for lol, thanks for this.'
Another added: 'Interesting! Learn something new every day.'
A third joked 'I Thought It Was To Make Them Look Pretty.'
Holly, who runs classes for national messy play company Little Learners, said she has been shocked by the huge reaction to her post.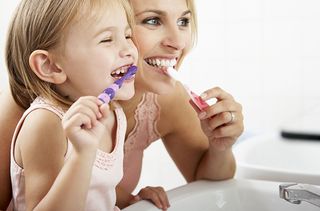 'I can't believe the response it's got to be quite honest', she said, as reported by Metro.
'I am a small local company and just thought I'd be sharing it with a few hundred mums who follow my page. It's crazy!
'Lots of the usual "this must be rubbish" comments but mostly just thousands of "wow I didn't know this", "I've been using too much too!!".
'It was only last week when I saw it. I was opening a new toothbrush for my little girl and just read the back of it. I've had so many and never bothered reading the package.'
The information on the packaging of the brushes states: 'Toothpaste indicator shows how much toothpaste to use.'
Parenting advice, hot topics, best buys and family finance tips delivered straight to your inbox.
A Freelance Writer and Content Editor, Jenni has been working on the women's lifestyle team at TI-Media on and off for over three years. She writes about your favourite celebrities and TV shows so you never miss an update. Jenni also writes beauty news and features - so for all of your skincare and make-up needs, drop her a line.