Pregnant woman reveals surprising reason behind small bump to raise awareness of tilted uterus
'I was growing backwards into my body rather than outwards'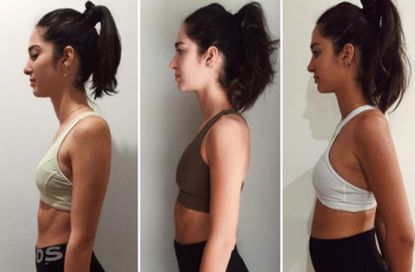 A pregnant woman suffering from 'tilted uterus' has taken to Instagram to raise awareness about the condition, which can affect the size of a woman's baby bump.
Like many expectant mums, Yiota Kouzoukas, from Australia, has received comments about her bump since revealing she's pregnant.
But after a few months of getting messages on social regarding the size of her bump, Yiota decided to 'explain a few things' so that people can be 'less judgemental'.
The Australian mum-to-be wrote on her Instagram that she suffered from 'retroverted/tilted' uterus, which means that her bump wasn't growing outwards.
'For the first 4 months of my pregnancy, my uterus was retroverted/tilted which means that I was growing backwards into my body rather than outwards. Most people with this type of uterus tilt forward at around 12 weeks and continue growing outwards like you normally would,' she wrote in the candid post.
'My uterus didn't "flip forward" until well into being 4 months pregnant because of the backwards tilted position paired with decade old endometriosis scarring that I have on my uterosacral ligaments.'
'Basically, these ligaments are acting like anchors keeping my uterus "inside" rather than "outside", which is why I appeared smaller than most people for the first 4 or 5 months,' she explained.
Yiota then went on to explain that at six months pregnant, she is now 'growing forwards just like everyone else', and that her doctor even advised her to stop all abs exercises to avoid 'any issues with possible ab separation'.
She ended her inspiring post with a reminder that all bumps and bodies are different: 'I'm perfectly healthy, baby is perfectly healthy and that's all that matters. Our bodies and bumps are all different and our shapes and sizes are all different too ❤️'.
Many mums took to the comments to agree with Yiota, revealing that they've also suffered from bump shaming in the past, and some even saying that they also struggled with a tilted uterus.
One wrote: 'I am going through the exact same thing now! My uterus was incarcerated BC of endometriosis and tilted uterus. It was pretty painful for a few weeks. But you look great!! People need to keep their negative comments to themselves.'
A second follower revealed she suffered from the same condition, and even said that some her friends accused her of lying about her pregnancy: 'Same thing happened to me when I was carrying my daughter! I actually had friends who accused me of lying because I didn't look pregnant. It still upsets me that I never had the chance to document "bump watch". I have one photo of myself sitting on my bed in hospital whilst waiting to give birth & the size of my bump was the size of a cantaloupe.'
A third added: 'You do NOT need to justify or explain yourself, your situation or your beautiful bump to ANYBODY. How many of these negative humans have experienced pregnancy? Probably none. Every pregnancy is different, they are all weird, wonderful and unpredictable. I did not show until I was 7 months... yep 7 then out of nowhere I turned into a huge Humpty Dumpty looking thing...'
Tilted uterus affects one in five women, and according to Dr. Aaron Styer, M.D., a reproductive endocrinologist, fertility specialist, and medical director in Massachusetts, US, the condition can affect the size of a woman's baby belly 'in the early stages of pregnancy'.
Speaking to Cosmopolitan, Dr. Aaron Styer said that a 'retroverted uterus is normal and does not increase a woman's risk for infertility or miscarriage'.
According to the American Pregnancy Organisation, the uterus will stop being 'tipped' or 'backwards' between the 10th to 12th week of pregnancy. If this doesn't happen, miscarriage can occur but it's very rare.
Trusted, informative, and empathetic – GoodTo is the ultimate online destination for mums. Established in 2007, our 15-year-strong archive of content includes more than 18,000 articles, 1,500 how-to videos, and 7,000 recipes.