6 fruit and veg alternatives you can carve if the shop has run out of pumpkins
An orange will do, thanks...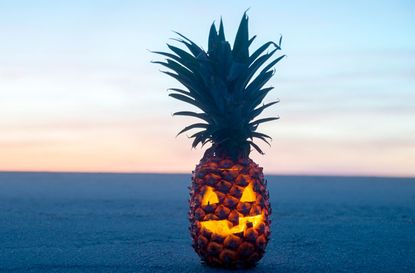 Carving and decorating a pumpkin (opens in new tab) is one of the most famous - and fun - Halloween traditions, but who says you can't do it with other foods?
The tradition of making pumpkins or Jack-o'-lanterns has been around for centuries and we love carving a pumpkin as much as the next person.
But what can you do if you don't have a pumpkin to hand? Supermarkets often sell out of pumpkins a week before the spooky night, and there was even a shortage in 2015 when unusually wet weather in the north of England caused thousands of pumpkins to rot.
But worry not - if you can't get your hands on a pumpkin this year or just fancy trying something a bit different with the kids, we've got you covered.
There have been several trends in the past few years for lanterns made of different vegetables and fruits, like oranges or turnips, and we dare say they actually look just as good or even better than the originals?
Take a look at the best pumpkin alternatives, so that the great shortage of 2015 never haunts us again...
Avocado pumpkin carving
The superstar of healthy foods can be used to replace the classic pumpkin when making a Jack-o'-lantern, although we can't guarantee it'll look as scary - this one is pretty smiley...
Turnip pumpkin carving
If you can spare a root vegetable or two (and we're pretty sure the kids will be grateful), turnips make great, handy replacements. Because they're smaller and easier to carve, you can even have a little family of Jack-o'-lanterns.
Pineapple pumpkin carving
Pretend you're not spending Halloween in the rainy and cold weather, but in a sunny beach somewhere with these not-so-petrifying pineapples - the spiky crown will give good old Jack fantastic hair.
Orange pumpkin carving
Image:Rebecca's DIY (opens in new tab)
Probably the easiest one to achieve if you're pressed for time, money, or simply can' be bothered with Halloween - just a grab an orange from your fruit bowl and you're good to go.
Watermelon pumpkin carving
Another summery one if you're missing the sun - a green watermelon Jack-o'-lantern could be a good break from all the orange.
Butternut squash pumpkin carving
Image:flickr/George P. Macklin (opens in new tab) Just as seasonal as the traditional pumpkin, the great thing about butternut squash is that its shape is the same as a human skull with a low hanging jaw - scary, ey? Let the spooking begin...
Have you tried any of these with your children before? Let us know in the comments!
Trusted, informative, and empathetic – GoodTo is the ultimate online destination for mums. Established in 2007, our 15-year-strong archive of content includes more than 18,000 articles, 1,500 how-to videos, and 7,000 recipes.