'So irritating' Bake Off: Crème de la Crème viewers slam show's new host Angus Deayton
Angus has replaced Tom Kerridge as the presenter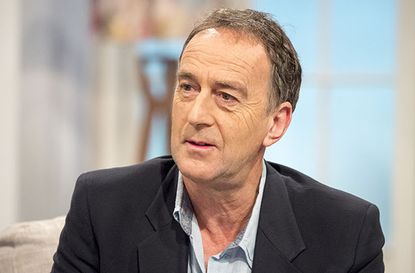 Bake Off: (opens in new tab) Crème de la Crème viewers have taken to social media to slam new presenter Angus Deayton and ask for former presenter Tom Kerridge to return.
Viewers took to Twitter to reveal their opinions on the new host while the first episode in the new series aired.
During the episode, the professional pastry chefs had to bake 36 identical moka au cafe slices and 36 napoleons, as well as present a creation inspired by the peach melba.
But after last night's episode, fans of the show took to Twitter to slam new host Angus Deayton, branding him 'irritating' and demanding that Tom Kerridge returns to his role as presenter.
'Angus Deayton is wrong for #GBBOCreme like Chris Evans was wrong for #TopGear', one fan wrote on Twitter, while another said 'Why have they dredged Angus Deayton back up for #GBBOCreme? His poor attempts at sarcasm add nothing to the program...'
'Angus Deayton on #GBBOCreme is so irritating', a third commented, while others asked asked for Tom to return to the show: #GBBOCreme Always have to watch the final challenge from behind a cushion😱 Where did Tom go? Angus seems to be taking the p*** all the time'.
The baking show, featuring 10 teams of professional bakers, pastry chefs and chocolatiers, sets out to find some of the best professional chefs out there by setting them extreme baking challenges.
Angus Deayton was confirmed as the new host of the show in January, after chef Tom Kerridge presented the first series.
Angus is best known for presenting BBC comedy panel show Have I Got News For You, before he was sacked from the programme in 2002.
As well as former host Tom, judge Claire Clark is not back for series two either.
Joining Angus for the nine-episode baking show are regular judges Benoit Blin, chef patissier at Raymond Blanc's Le Manoir aux Quat'Saisons in Oxfordshire, as well as Cherish Finden, the executive pastry chef at The Langham in London.
While The Great British Bake Off will be moving to Channel 4 for the next series, it was announced that its sister show Crème de la Crème will remain on BBC Two.
BBC Two's Channel Editor Patrick Holland said: 'Bake Off: Creme de la Creme proved a great hit with audiences last year and we are pleased that it is returning to BBC2 with Angus Deayton at the helm. With its wit, charm and celebration of specialism, it's a show I am delighted to have on BBC2.'
The format of the show has also changed, as well the host and judging panel. Series two will see two groups of five teams compete across three heats, and then two semi-finals, before battling it out to reach the final round.
According to the Radio Times, this change was made by producers to give us 'more time to get to know the chefs taking part'.
Bake Off: Creme de la Creme airs on Tuesdays at 8pm on BBC Two.
Charlotte Whistlecroft is a former Family writer at GoodTo. She obtained a BA in Theology and Theological Studies at Durham University, going on to study a masters at City University London in 2016. Since leaving GoodTo she has worked as a Social Video Researcher at Mail Online and is now Assistant Producer at BBC Sport.