We earn a commission for products purchased through some links in this article.
Formerly the 'bad boy' of the Bake Off tent, known for his sharp criticism, steely-eyed stare and disapproving looks when judging the show's contestants, Paul Hollywood has come under fire from fans this year for an entirely different reason.
Whereas previously viewers questioned whether Paul was too hard on contestants, and praised his former co-judge Mary Berry for softening the baking aficionado's critical comments, on the brand new series of Great British Bake Off, fans are now slating Paul again. But this time, its for being too 'soft'!
In previous series of the show, the infamously dubbed 'Hollywood Handshake' was a much desired accolade by contestant, with the bakers all vying for the moment that the otherwise frosty judge would shake their hand to congratulate them on a fantastic bake. Those rare moments were few and far between, with Paul reserving his handshakes only for the very best bakes of the series.
Who can forget former winner Candice Brown's face when she finally received her first handshake from Paul during the last series?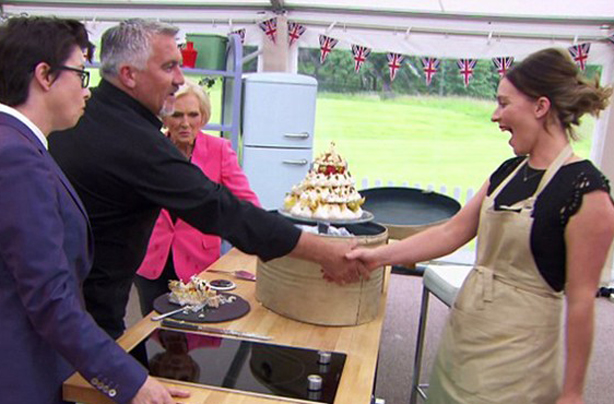 However, this year, viewers are questioning whether the infamous 'Hollywood Handshake' is losing its value after Yan, Steven and Stacey all received handshakes from Paul for their efforts during Pudding Week.
After seeing Paul dish out his third handshake of the show, even presenter Noel Fielding couldn't help but comment on the judge's friendly turn.
'Three handshakes. That's a personal best for you,' quipped Noel.
A phenomenon described previously as 'Rarer than a unicorn riding a flying pig' now appears to be a common occurance. And fans of the show weren't impressed.
'Paul Hollywood is giving out these handshakes 2 easily,' wrote one fan on Twitter, while another added: 'The Hollywood handshake is losing value faster than the British pound.'
In an effort to add some prestige back to the once infamous Paul Hollywood gesture, presenter Noel Fielding is now offering contestants a 'Fielding Fondle' instead.
So, what do you think? Has Paul Hollywood gone too 'soft' on this year's contestants? Let us know your thoughts in the comments below!