10 of the biggest, best and downright tummy-busting food challenges in the UK
Feeling hungry?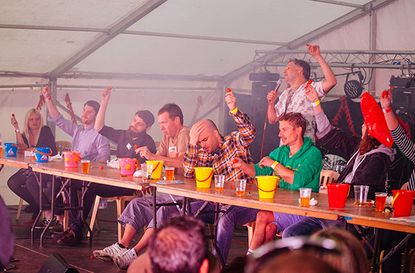 Competitive eating is pretty hot at the moment.
Gone are the days when football, golf and rugby were the only 'spots' of choice - nowadays, polishing off a monster meal really is the sport of kings.
From a six-pound burrito to a 10,000 calorie meal, here's a round up of the biggest and best eating competitions across the UK!
(Warning: Not for the light of heart or small of stomach... )
1. No Clucking Chance, Yorkshire
This monster dish is found at Huckleberry's diner in Yorkshire. The mega-meal is made up of a whopping 10,000 calories (that's five days worth of food). The brave challengers are given just 45 minutes to eat eight chicken breasts, bacon, eight waffles, giant onion rings, corn on the cob and mountains of chips. The grand prize? £500 and the chance to be immortalised on the diner's wall of fame.
2. The UK's largest mixed grill challenge, Teeside
Here's one for the meat lovers. The country's biggest mixed grill at The George pub in Stockton-on-Tees, Teeside, is 8,000 calories and contains nine types of meat, chips, onion rings, mushrooms and tomatoes - and four sauces to go with it. Punters must finish a whopping meal made up of two 8oz steaks, two chicken breasts, two servings of pulled pork, six sausages, one half-pound burger, 10 onion rings, a rack of ribs, four black puddings, eight mushrooms, four rashes of bacon, shredded chicken, and four tomatoes with chips and peas on the side. If you finish within an hour you walk away with your face on the wall and a hoodie - if you can walk, that is.
3. The world pie-eating championships, Wigan
England wouldn't be England if it didn't host the annual pie eating competition. Set in the pie-homeland town of Wigan, it's a staple of British culture. In 2006 - due to health and safety laws - the winner is now not who can eat the most pies, but who can eat one pie in the quickest time. The current record is a speedy 22.53 seconds.
4. The Bavarian Bierkeller Belly Buster Challenge, Cheltenham
The name is long. And the meal is huge. The Bierkeller bar in Cheltenham only opened this May, but the challenge is already attracting foodies with an appetite. The German-themed platter includes two of the bar's wurst, a pizza, two portions of fries and a giant pretzel. Need a pint to wash it down? Contestants must also drink a giant stein. The current record is a pretty unbelievable 6.22 minutes!
5. The monster mega breakfast, Portishead
This name pretty much sums it up. Britain's biggest breakfast is a whopping 8,000 calories and is dished up at the Corner Café in Portishead, near Bristol. Not for the faint-hearted, it's made up of (deep breath)... two three-egg omelettes, six more eggs, six rashes of bacon, six sausages, four portions of mushrooms, four portions of friend potatoes, six hash browns, six slices of black pudding, a bowl of chips, four onion rings, four slices of toast, two slices of fried bread, two portions of beans, tomatoes and either a milkshake or an energy drink. Well, they do say breakfast is the most important meal of the day.
6. Fiery Festival UK chilli-eating contest, Brighton
If it's heat, not quantity, you're after, then this chilli challenge is for you. The annual fiery festival takes place, in Brighton attracting some of the bravest stomachs in the country. Taking part requires signing a health and side effects questionnaire. You know - just in case...
7. Sink the Titanic challenge, Lancaster
Image: Go Burrito (opens in new tab) There's a burrito and there's the Titanic. To sink the Titanic at Go Burrito in Lancaster means polishing off a massive 6lb 3oz burrito... in just half an hour. The monster is filled with pork, beef, rice, beans, cheese, salsa and a side of nachos. We told you it was big.
8. The Devestator, London
Image: Red Dog Saloon (opens in new tab) At 8 inches tall, The Devestator is one of Britain's biggest burgers. The 3000-calorie monster is served at the Red Dog Saloon in London and is made up of three 6oz burgers, six slices of cheese, six rashes of bacon and three servings of pulled pork - all within one bun. Contestants must finish off the burger, a side of fries and wash it down with a milkshake all within 10 minutes to earn themselves a place on the wall of fame. No wonder only seven percent complete it.
9. Lumberjack's Double Knuckle Challenge, London
http://www.youtube.com/watch?v=73y7S8sXJ5Y
This challenge is for anyone who loves German food. Competitors must try to finish two pork knuckles (each weighing a kilo each!)with chips, a side of German with potato salad and sauerkraut. Challengers must also wash it down with a litre of beer.
10. Go Hard Or Go Home – Leamington Spa
The 'steaks' are high in this monster of a meal. The Go Hard Or Go Home challenge consists of an incredible 72 oz rump steak, with a pound of fries and two roasted tomatoes on the side. If you win, you eat for free. But if you lose, it's a hefty £60 bill.
Charlotte Whistlecroft is a former Family writer at GoodTo. She obtained a BA in Theology and Theological Studies at Durham University, going on to study a masters at City University London in 2016. Since leaving GoodTo she has worked as a Social Video Researcher at Mail Online and is now Assistant Producer at BBC Sport.