5 cheap cocktails starting under £1 using ONLY Aldi ingredients!
Your parties will never be the same again...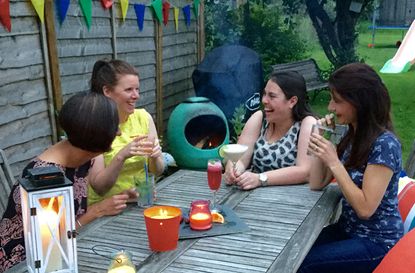 Aldi lover Amy Sheppard is our kind of mum! She's written a fantastic blog called The Aldi Lovers Guide To Cooking (opens in new tab) that solely uses ingredients from the budget supermarket to show how easy it can be to eat well while avoiding racking up a killer food bill each month.
This week she's letting us behind the scenes on a little summer party she had with some friends, which means... cocktails! Yep, it really is possible to throw a fancy drinks party for your girlfriends this summer without splashing the cash. She's included recipes for five cocktails and priced up a delicious sharing board full of Italian antipasto treats as well.
Here's what she had to say...
Some blogs are more of a challenge to write than others. This, I can promise you, has been no hardship! Me and some foodie friends, spent a sunny afternoon trying out food and cocktails, to bring you the best that Aldi has to offer for your Summer get togethers.
Cocktail parties can be expensive. You want to provide choice, but you don't want to overspend on the spirits, mixers and food. I have come up with 5 simple Summer cocktails and a fabulous antipasti spread, all using 100% Aldi ingredients!
The spirit of summer: Aldi-style cocktail recipes!
Ready to have a go yourself? These are Amy's tried and tested summer cocktail recipes to help your bash go off with a bang. Each recipe makes one cocktail, so multiply the quantities as needed.
Aldi Whiskey Sour recipe
Image: Amy Cassidy
This feels like a really grown up drink. Sweet and sour, the whiskey really is the star of this cocktail. You can use bourbon instead if you prefer.
Ingredients
50ml Single Grain Scotch Whiskey (£10.99 for 700ml, 79p per serve)


Juice ½ lemon (14p)


2 tsp sugar syrup (1p)


Soda water to taste (2p)


1 cherry (1p)


1 slice of orange (2p)

Method Shake the whiskey, lemon and sugar syrup, with ice in a mixer. Pour into a tumbler and top up with soda water. Add a cherry and a slice of orange.
Total cost per serving: 99p

Aldi Raspberry Prosecco recipe
Image: Amy Cassidy
This is so simple to make and looks so pretty! Aldi also sell a lemon sorbet if you prefer, or you could make a few of each.
Ingredients
Half a champagne flute of Prosecco (Aldi Prosecco Spumante £5.29 a bottle, 53p per serve)


A scoop of raspberry sorbet (10p)


3 fresh raspberries (17p)

Method Half fill a champagne flute with Prosecco. Carefully add a scoop of sorbet and gently press it in to the glass. Add the raspberries to finish. Be careful not to add too many, as they will make the Prosecco froth over.
Total cost per serving: 80p

Aldi Pina Colada Mocktail recipe
Image: Amy Cassidy
This alcohol free cocktail is sweet and creamy, perfect for the kids! If you want to make it an alcoholic cocktail, just add a shot of rum!
Ingredients
2 frozen pineapple rings (18p)


½ frozen banana (6p)


50ml pineapple juice (6p)


100ml coconut milk
Method At least 2 hours before you are making the cocktail, put pineapple rings and bananas into separate Tupperware containers and freeze them. Put the frozen pineapple, frozen banana, pineapple juice and coconut milk in a blender and mix until smooth. Serve in a cocktail glass with a slice of pineapple.
Total cost per serving: 50p

Aldi Mojito recipe
Image: Amy Cassidy
Everyone loves a mojito! Make sure you have plenty of mint leaves as they require a lot. Don't be surprised if this is the most popular cocktail of the evening.
Ingredients
50ml white rum (£9.99 for 70cl, 71p per serve)


10 mint leaves (15p)


2 tbls sugar syrup (2p)


Juice of 1 lime (23p)


2 handfuls of ice


Soda water (2p)


Sugar for the glass rim (1p)

Method Take a tall glass and using your finger, dab sugar syrup around the rim of the glass. Place some sugar on a saucer or plate and dip the rim in it, until coated. Use the end of a rolling pin to crush 1 handful of ice, with the mint, lime, rum and sugar syrup. Once the mint and ice are well crushed, pour them into a tall glass. Add the remaining handful of ice and top up with soda water.
Total cost per serving: £1.14p

Aldi Bourbon Cider Cocktail recipe
Image: Amy Cassidy
If you have guests who prefer a simpler drink, why not try this Bourbon Cider Cocktail? The sharpness of the cider and lemon is balanced, by the sweetness of the maple syrup and the kick from the bourbon. Add a sprig of Rosemary for a more smoky flavour and rustic look.
Ingredients
25ml Bourbon (Clarkes Whiskey Bourbon £11.49 for 70cl, 41p per serve)


200ml cider (Orchard Premium Cider 85p per 568ml bottle, 30p per serve)


Squeeze of lime (7p)


1 tbls maple syrup (15p)

Method Place the bourbon, lime and maple syrup into a glass and stir vigorously until mixed. Add a handful of ice and top up with cider. You may need a little more or less cider depending on taste.
Total cost per serving 93p
Never made cocktails before? Take a look at my top tips to help you prepare.
Image: Amy Cassidy

Amy's top tips for throwing an Aldi cocktail party
1. Choose wisely: Pick 3-5 cocktails to make (more guests, more choice).
2. Ask guests beforehand what their favourite spirits are and choose cocktails based around them. You don't want to be left with a bottle that nobody likes!
3. Ice, and lots of it! You can never have enough ice when making cocktails. Invest in some shaped trays and buy extra bags of ice as a backup.
4. There are bound to be some non-drinkers, so don't forget the mocktails!
5. The joy of cocktails is in the presentation. Make sure that you have plenty of fresh and frozen fruit to dress the drinks. Try and get a range of glasses to suit each cocktail - borrow from friends, rather than splashing out on new ones.
6. Making cocktails is time consuming. Plan drinks that you can make by the jug, like Sangria. Have bottles of wine ready for later in the evening, so you can relax.
7. Lots of cocktails call for sugar syrup. Make this ahead of time by heating equal amounts of sugar and water in a saucepan, until the sugar has dissolved. Place the syrup in a jar and store it in the fridge until you need it.
Aldi Antipasto recipe to go with your cocktails
Image: Amy Cassidy
Summer food is all about simplicity. Aldi have a great range of antipasto food, that is perfect for outdoor dining. My shopping list below provides enough food for 10 people as a light lunch or dinner:
Chilli Flatbread thins 99p


Bag of mixed salad £1.35


Camembert 99p (melt in the oven for 10 minutes)


Red Pepper Houmous 69p


Greek Olives £1.29


Sundried Tomatoes 85p


Tomato & Chilli Chutney 99p


Artichokes in Oil 85p


Deli Farmhouse Pate 89p


Gorgonzola £1.29


Breaded Goats Cheese Bites £1.75 (cut in half to serve)


Grilled Peppers 85p


2 x Antipasto selection £1.99 each


French Brie 89p


2 x Tiger Bread 75p each

Image: Amy Cassidy
Total cost of Antipasto: £19.15
With thanks to Amy Cassidy, Soraya Fawcus & Amy Cronin, for photography, styling, venue and company!
Trusted, informative, and empathetic – GoodTo is the ultimate online destination for mums. Established in 2007, our 15-year-strong archive of content includes more than 18,000 articles, 1,500 how-to videos, and 7,000 recipes.