'It will be the trip of lifetime' - Nadiya Hussain reveals some BIG family plans...
Have you heard her news?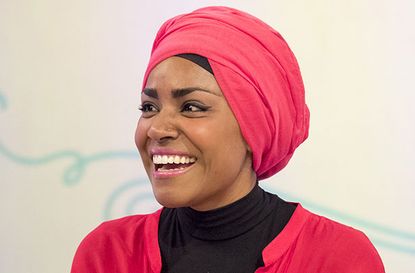 Nadiya Hussain is back this month to let us in on some big family plans for her regular #NadiyaBakes blog for Goodtoknow...
Over the last few weeks I have left two suitcases sitting in my brother's bedroom, wide open, full of clothes, medication and an abundance of confectionery. I have had the best intentions to pack the suitcases properly for over six weeks and I still haven't managed to get round to it. Not just because of the fact I have been busy most days but mainly because I hate packing suitcases. My husband however is a dab hand at it, and I am secretly hoping he will just take pity on me and do it soon.
'I have taken the very impulsive decision to take the kids on the trip of lifetime'
A few months ago my children watched the Chronicles of Nadiya. This was the two part travelogue slash foodie documentary that saw me travel through Bangladesh. I travelled through familiar parts of the country rediscovering the vast village that my granddad left behind.
I also travelled alone through parts of Bangladesh that I had never seen. The kids watched it in awe that they were somehow connected to this beautiful country, and even more beautiful family. Much to my shame I have travelled all over the world with the kids but have managed to leave out Bangladesh.
Nadiya has been busy doing some Halloween baking this month
So this half term I have taken the very impulsive decision to take the kids to Bangladesh, for only a few days but I know that it will be a trip of lifetime. A journey of discovery, emotions and not to forget beautiful weather!
'I baked a cake taller than my 6 years old daughter'
Meanwhile I have been distracting myself with lots of amazing things over this last month. I baked a cake taller than my 6 years old daughter for the DVD release of Alice Through The Looking Glass.
Nadiya's larger than life Alice in Wonderland cake!
I baked a cake for ladies at BBC Radio 4 Women's Hour as I helped them celebrate their 70th Years.
Pssst, we have lots of Nadiya's recipes!
Not to mention my new journey with the BBC I have kicked it all off by travelling with my favourite One Show Team and yes that involved more baking!
Rosie is an experienced food and drinks journalist who has spent over a decade writing about restaurants, cookery, and foodie products. Previously Content Editor at Goodto.com and Digital Food Editor on Woman&Home, Rosie is well used to covering everything from food news through to taste tests. Now, as well as heading up the team at SquareMeal - the UK's leading guide to restaurants and bars - she also runs a wedding floristry business in Scotland called Lavender and Rose.