The Doctor's Kitchen: Everything you need to know about Dr Rupy Aujla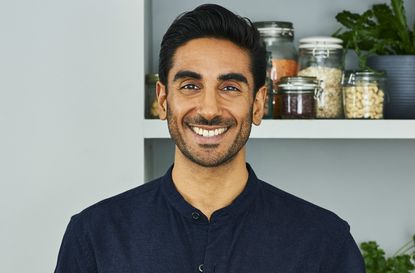 Dr Rupy Aujla has released a new cookbook. Here is everything you need to know about his latest edition, The Doctor's Kitchen: Eat to Beat Illness - and a glimpse at some of the recipes you can expect.

Who is Dr Rupy Aujla?
Dr Rupy Aujla is a NHS GP, a health writer and an absolutely foodie.
From cooking in the kitchen to achieving good health, Rupy found the power of food was his medicine.
In 2009, Rupy was diagnosed with artificial fibrillation, which is an irregular heartbeat – at times his heartbeat could skyrocket up to 200 beats per minutes.
After seeing several specialists who advised the way to combat this would be to undergo a heart operation called an ablation, Rupy turned to advice closer to home – his mother.
His mother urged Rupy to closely analyse his diet, and after addressing various nutrient deficiencies his cardiac episodes ceased.
From his own personal experience tackling a serious health condition using simple changes in his diet, Rupy shares his top tips in his colourful cookbooks that will definitely inspire your dishes.
A lover of cooking, healthy recipes and wellness he has released two cookbooks both sharing the title The Doctor's Kitchen.
Following the success of his first cookbook The Doctor's Kitchen, Supercharge your health with 100 delicious everyday recipes - Rupy is back with a second culinary creation, The Doctor's Kitchen: Eat to Beat Illness.
Dr Rupy Aujla's cookbooks: What's The Doctor's Kitchen all about?
Rupy's idea behind his The Doctor's Kitchen recipe books was to create healthy, exciting and most importantly accessibly dishes to encourage people to get in the kitchen and recognise the nutritional benefits of incorporating certain foods into your diet.
If you're on a diet or simply want more inspiration for healthy family meals (opens in new tab) then these are the cookbooks for you…
The Doctor's Kitchen: Eat to Beat Illness
Eat to Beat Illness is Rupy latest cookbook, first published in March. Rupy explores preventing disease just by altering certain foods in your diet.
Whereas most healthy recipe books focus on heart health and advice on how to lose weight (opens in new tab), Rupy instead looks at how food affects specific parts of our bodies, including our brain and mind. For example, Ruby examines how food affects our mental health, stress levels, our skin quality and eyesight.
The book is separated into different topics such as how to maintain a healthy brain, healthy heart, combat inflammation, improve immunity (opens in new tab) and reduce the chances of cancer.
Packed full of 80 new recipes bursting with flavour and colour to try, each will inspire you to make healthier food choices in the kitchen and in turn benefit your overall wellbeing from just a few life-style changes.
The Doctor's Kitchen: Supercharge your health with 100 delicious everyday recipes
Supercharge your health with 100 delicious everyday recipes is Rupy's first culinary creation which was first published in December 2017. With his 100 easy to make dishes, Rupy takes us on a journey through food, medicine and science.
Each recipe is speckled with bite size easy-to-understand information to give you an insight into the nutritional benefits of the delicious dish.
Rupy suggests plant-based diets (opens in new tab) are the healthiest for us, and believes you can maintain good gut health, reduce the risk of obesity, and cardiovascular disease just by eating the right foods.
In this book Rupy aims to debunk the myth that a healthy diet is expensive, and reveals handy tips to reduce your weekly food shop spend. Rupy also shares his timesaving tricks to make every meal a little simpler.
The Doctor's Kitchen dinner recipes
As ever, Rupy comes up with plenty of inventive recipes in his cookbooks including Ethiopian Curry, Thai-style Salmon Burgers, Black Bean Tacos and Teriyaki Green Beans. Here are three of our favourite dishes from The Doctor's Kitchen: Eat to Beat Illness:
The delicious blend of spices and creamy coconut sauce makes a warming and flavoursome Sri Lankan curry packed full of veg. Once you have all your ingredients together, simply throw them all together and cook for just 20 minutes. You'll soon have a hearty family meal on the table in no time.
Dr Rupy Aujla puts a twist on a classic Italian dish with the addition of walnuts, aubergine, puy lentils and anchovies to this ragu recipe. It's a perfect meal for batch cooking and you can store left-overs in the freezer to use at a later date.
Dr Rupy Aujla's carrot and courgette laksa is a hearty and comforting meal with lots of different vegetables and flavours included. Simply throw all the ingredients in one pot and let the Malaysian spices work their magic.
The Doctor's Kitchen podcast
If you are interested in Rupy's story and want to find out more, we recommend tuning into his Doctor's Kitchen Podcast, which can be found on Spotify or ITunes.
In each weekly episode, Rupy enlightens his listeners about the health benefits of a certain food. In one episode Rupy shares all the recipes Pak Choy can be used in - from curries to stir fries and even some unusual recipes that you may surprise you.
Sibelle Mehmet is a Junior Digital Writer at Goodto.com. She joined the team in April 2019 and was her first job since completing a MA in Magazine Journalism at City, the University of London in the summer of 2019. Sibelle previously interned at a number of national titles including OK!, Heat, Closer, Mother & Baby, and The Times Newspaper magazine. She's written extensively about the latest celebrity, showbiz, and royal news.