A taste of America in your own home! Family faves Bisto and Paxo have just launched a NEW Southern-Style range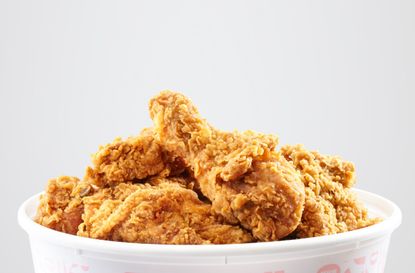 Family faves Bisto and Paxo have just launched a brand new Southern-Style range at Asda and the public are loving it, claiming it's 'just like KFC'.
Transport yourself to the Deep South and indulge chicken-shop favourites from the comfort of your own home… who needs the Colonel?
If you're looking for something quick, easy AND super delicious for a mid-week dinner, then Southern fried chicken and gravy is one of those combinations that go hand in hand.
The nations favourite gravy brand, Bisto have just released their new southern-style granules and say it's the perfect accompaniment for chicken dinners.
Drizzle over your dinner, smother, drench or dip until your heart's content because this gravy comes in at just 30 calories per serving, so go wild!
Paxo have also created something new; a breadcrumb that even Hansel and Gretel couldn't resist! Their new southern fried crumbs create the perfect crispy coating for any piece of chicken.
With the public truly embracing the new 'fakeaway' food trend, opting to recreate their fast-food favourites at home, these are certainly ones to look out for! Put your own spin of things and even make it healthier than a takeaway by oven-baking.
READ MORE: See how many calories are in your favourite takeaways
ASDA is the only supermarket currently stocking these, and for an amazing £1 introductory price. You can also find them on Amazon.com but they will cost you considerably more.
Social media site @newfoodsuk took to instagram to alert their 120k+ followers when they stumbled across them on the shelves in ASDA. With 230 comments already on the post, there were a couple of mixed reviews.
With one follower claiming "this is stuff of dreams", others saying "homemade KFC" while another follower claiming they've already tried the gravy and "it just tastes like the chicken one"
Both products are vegetarian-friendly so don't feel limited in your approach, you can add the breadcrumbs to vegetables, make your own mozzarella stick or why not even create southern fried tofu?
With over 12 years of experience, arts graduate Keiron turned to food to channel his creativity, specifically cake decorating. Keiron set up his wedding cake business in 2015. And, in late 2016 won a scholarship at the world-renowned culinary institute - Le Cordon Bleu, London, where he studied the art of French Pâtisserie. He's worked in some of London's finest 5-star hotels, collecting a wealth of knowledge along the way. As a Food Writer and Stylist food isn't just a job, it truly is Keiron's passion.