Aldi has launched an emoji frying pan for this year's Pancake Day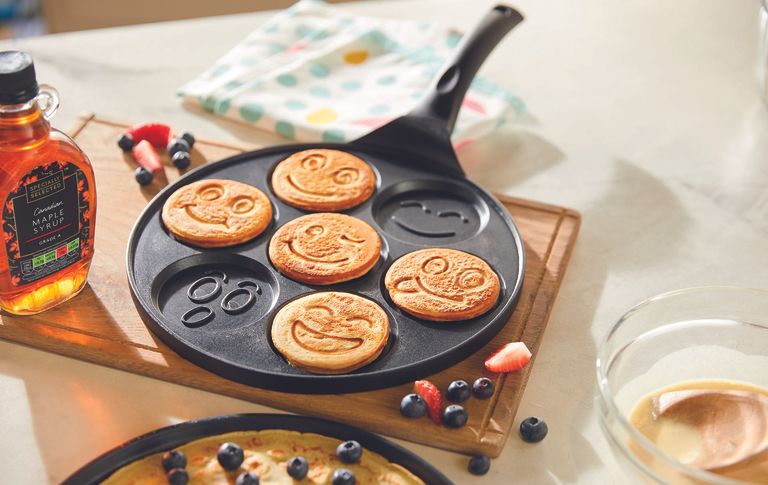 (Image credit: Aldi)
Easter might be on its way but there's one all-important occasion that comes before it – Pancake Day.
It's one of the annual holidays that can often be forgotten about until the last minute, but in our opinion it's definitely one of our favourite days of the year.
A whole day dedicated to chomping on light crepes and fluffy pancakes (opens in new tab) AND an excuse to eat all the Nutella, syrup and sugar that we want? What's not to love!
Read more: When is Pancake Day 2019? Your guide to Shrove Tuesday (opens in new tab)
And now one supermarket has come up with a way to bring even more smiles to our faces on that wonderful day of the year.
Always bringing us the whackiest but most fun and surprisingly useful creations, budget supermarket Aldi is selling pancake pans – but with a twist.
Read more: Pancake SOS: We solve all your pancake problems (opens in new tab)
The aluminium pancake pan is no normal pancake pan. It comes with smiley face stencils engraved inside each section.
So you can whip up a batch of fun pancakes imprinted with the kids' favourite Emojis!
Or if your little one's more of an animal lover, you can get a pancake pan that imprints zoo animal shapes into each pancake.
Each of the pans makes seven mini pancakes each, are easy to clean and are coated with a non-stick finish to avoid any kitchen mishaps.
The bargain hunter's haven also does a Mini Round Pancake Pan that can make up to seven plain mini pancakes or a Large Plain Pancake Pan if you're a real pro and don't need the shapes to guide you. And you can use it for your crepes too – bonus!
More of a waffle fan? The high-street supermarket is also selling a Waffle Pancake Pan which allows you to make up to seven mini waffles in the convenience of just one pan.
Or try out their Ambiano Waffle Stick Maker, which just plugs in and cooks up to six waffle sticks in a matter of minutes. It comes in at only £14.99, which is a bargain for this nifty gadget, and is available to pre-order online now. Or get it in stores across the country from 28th February.
All of the pancake pans are available for only £7.99 but unfortunately are already sold out online! But the retailer promises to stock up the store shelves from 28th February, so hurry down to your local to get your hands on one!
Pancake day just got a whole lot easier.
Aleesha Badkar is a lifestyle writer who specialises in health, beauty - and the royals. After completing her MA in Magazine Journalism at the City, the University of London in 2017, she interned at Women's Health, Stylist, and Harper's Bazaar, creating features and news pieces on health, beauty, and fitness, wellbeing, and food. She loves to practice what she preaches in her everyday life with copious amounts of herbal tea, Pilates, and hyaluronic acid.