Aldi launches halloumi burger and brings back sell out halloumi fries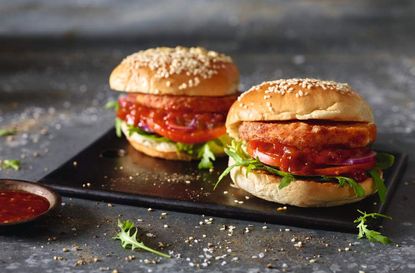 Calling all cheese lovers and vegetarians - Aldi has launched a halloumi burger.
The bargain supermarket has introduced the meat free burger alternatives as part of their halloumi range which also includes their well loved sell out halloumi fries.
When the crispy deep fried sticks of the delicious squeaky cheese were first released, stores were forced to enforce a 'two pack per customer' rule because they were just so popular.
Now, the cheesy snacks are back alongside their new burger siblings.
The halloumi burgers are sold in packs of four for just £2.29, the same price as a box of ten Specially Selected Halloumi Fries.
READ MORE:Aldi is bringing back its caramel churros in time for party season (opens in new tab)
They're both available to buy now, so you can swap your classic potato chips for a cheese filled alternative, switch your meaty burger fillings for a meatless option or even combine both for an epic halloumi-filled meal. YUM.
If that doesn't satisfy your halloumi cravings, there's not long to wait until Aldi releases a mouth-watering switch up of a Christmas day classic.
Step back pigs, it's chunks of halloumi that will be wrapped in a blanket of bacon (opens in new tab) this year, with Aldi stores stocking the festive cheese bites as of the 5th December.
READ MORE:Aldi is selling giant Yorkshire puddings filled with an entire roast dinner for just £1.99 (opens in new tab)
If the idea of a sausage free pig in blanket seems criminal, there's always Aldi's two-metre long take on the meaty trimming.
Grace your Chrimbo spread with a six foot five inch porky encased in bacon for just £4.99 and satisfy the demands of even the biggest pig in blanket lover at the table.
Again these aren't available until the 5th of December but we reckon they'll fly off the shelves once the festive season arrives and they go on sale.