This retro dessert is making a comeback to our supermarkets
So exciting!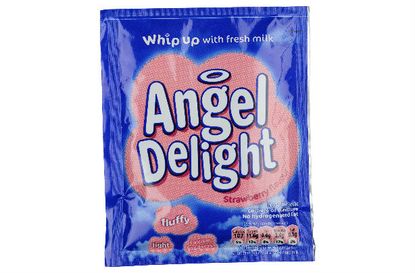 GoodTo newsletter
Sign up to the GoodTo Newsletter. You can unsubscribe at any time. For more information about how to do this, and how we hold your data, please see our privacy policy
Thank you for signing up to . You will receive a verification email shortly.
There was a problem. Please refresh the page and try again.
The retro pudding Angel Delight is making a huge comeback, thanks to the makeover it received from its manufacturers.
Known for decades for its original dry sachet, last year the dessert was relaunched and sold as a single serve pot.
Since its modern makeover, Angel Delight's manufacturers have seen a huge rise in sales, as it appears people are more and more interested in the product, now it's ready-to-eat straight from the pot.
Gavin Darby, the boss of Premier Foods told The Sun: 'Angel Delight sales have risen 30 per cent in the past six months because it now comes ready-to-use in pots.'
Fans of the pud are pretty happy about the comeback, and took to Twitter to share their excitement.
One commented: 'So Angel Delight is back in fashion? Happy days! Loved the stuff as a kid! Will have to go out and buy some! #angeldelight #backtothe80s'.
'Mini pots of Angel Delight are the future #strawberry #childhoodmemories #butterscotch #angeldelight #instantwhip', tweeted another fan.
The fluffy-light pudding first hit the supermarket shelves back in 1967 in strawberries-and-cream flavour.
It continued its popular reign throughout the 1970s, becoming known as a family favourite because people were becoming more and more interested in desserts that required minimal effort to make.
However, over time the dry sachets lost their popularity when other more instant desserts took precedence on shop shelves.
With its latest modern makeover, the instant ready-to-eat pots will be sold on average between 50p and 60p in the following flavour options: strawberry, butterscotch, chocolate and banana.
If you were a fan of the sachets, all is not lost because they'll still be available to purchase alongside the new updated versions.
The various flavours are currently available to buy in Sainsbury's as single pots or sachets for 50p and 6-pack of pots for £2.90.
Tesco and Asda also have single pots and sachets for 50p plus a '7 for £3' deal on the pots.