Celebrity Bake Off 2019: When is The Great British Bake Off Stand Up To Cancer special on?
The Celebrity Bake Off line-up looks great!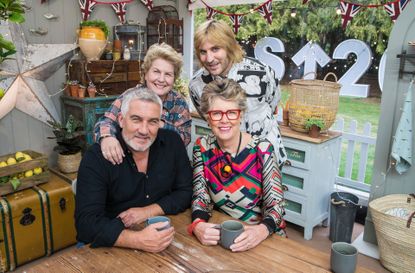 The Great British Bake Off won't be on our screens for a few months yet but thankfully we've got the Celebrity Bake Off Stand Up To Cancer special in the meantime...
If you're an avid Great British Bake Off (opens in new tab) fan, you're probably itching for the next series to start.
Paul, Prue, Sandi and Noel have all confirmed they'll be returning to the tent but we've got a few months to wait till we will meet the new baking hopefuls who think they've got what it takes to be the next Nadiya (opens in new tab) or Rahul.
Thankfully, in the meantime there's some celebrities looking to enter the tent and it's all in the name of charity.
We've got all the information you need on the Bake Off Stand Up to Cancer special below and we're predicting a few soggy bottoms from the famous baking hopefuls.
Help Cancer Research UK by buying your Star Baker Bundle (opens in new tab)
When is Celebrity Bake Off on TV?
The celebrity Bake Off in aid of Stand Up To Cancer will air on Channel 4 on Tuesday 5 March at 8pm.
https://www.facebook.com/greatbritishbakeoff/videos/827789304235576/?__xts__[0]=68.ARD9MohTpJVP2o4O5BbofvmbMWDc6BLy_ax3f9CH3Qu2BBTJUxhDoPwA5M--Kt4GLGhXTruZZnb-cPAeml4Zs55kK44F3hDp0qz3C6i7XBvhrcHOYu-TsE1LdX3KsYrU1F0n03U1bB0DtjL4Y3Yb2VUKu3JvTyKXaKkeQYjVybTBhaNm30A1b9yCmHqlkhloxMoUH5QDVEjgacvhf6mmkfH9B02ePFArpWtvCobJqag3M-ZLW6bA4tUBYI4OOQh7jKBgyjC9YZVr6pvytpbRK4UbPnWbKsc_ON_ZAhNuqrD8Ik6o3KoKP4JObDXnVo7eN1LU5Kv1x5O1Bkko7CHRRAZ4l4h0y9HCbuleNg&__tn__=-R
Who is on the Celebrity Bake Off Stand Up To Cancer special?
Michelle Keegan
Star of the hit BBC drama Our Girl, Michelle Keegan could bring some interesting flavour combinations to the Bake Off tent… During Jessie Ware's podcast Table Manners the actress admitted to having mayonnaise with pretty much every meal – including her Chinese takeaway!
Caroline Flack
Caroline Flack is a radio and TV presenter, perhaps most recognised as the host of the popular ITV2 show Love Island.
Russell Brand
Comedian Russell Brand is sure to make viewers laugh but will he be able to make something tasty for Prue and Paul?
Georgia Toffolo
She was Queen of the jungle back in 2017 and better known as Toff by her friends, family and fans. Perhaps she'll take some inspiration from the I'm A Celeb bush tucker trials for her bakes?!
Rylan Clark-Neal
X Factor star turned presenter Rylan got all the way to the final of BBC One's Celebrity MasterChef back in 2015 so he could be one to watch in the tent!
Big Narstie
Rapper and TV host Big Narstie has a Caribbean family and grew up eating lots of rice and peas and jerk chicken. In an interview with the Guardian he also revealed that his mum would also cook things like lasagne, spag Bol and on Saturday's it was soup only. Perhaps we'll see some fusion-food influences in his bakes!
Russell Tovey
Actor Russell Tovey has apeared in several hit dramas, including Being Human, Him & Her and Banished. In an interview with the Radio Times he revealed he is 'obsessed' with American diner food and eggs, and he loves all the different ways New Yorkers cook them.
Nicola Adams
Boxer Nicola Adams admitted to indulging in a McDonald's after she won gold at the 2012 Olympics! She also refuses to give up Frosties for breakfast despite her strict training diet. Perhaps we will see a homage to her favourite cereal in the tent…
The rest of the celebrity baking hopefuls include: comedian Jonny Vegas, actor John Lithgow, actress Sally Lindsay, journalist Krishnan Guru-Murthy, comedian Jon Richardson, athlete Katarina Johnson-Thompson, Paralympian Hannah Cockroft, comedian Joe Wilkinson and actor Greg Wise.
Will you be tuning into the Celebrity Bake Off? We can't wait to see what challenges the celebs are given!