Celebrity MasterChef 2016: Start date confirmed - let the countdown begin!
Keep up to date with all the latest from Celebrity MasterChef 2016 including the star-studded line up, start date, what they're cooking and more...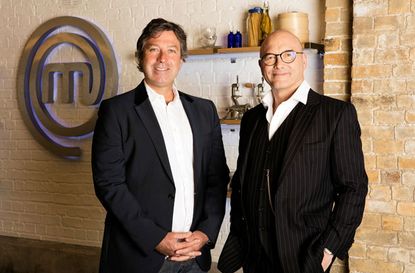 Finally, it's back! We're of course talking about Celebrity MasterChef, and what's more - the start date has been announced.
We're a little bit too excited about this year's Celebrity MasterChef especially now we've found out the line up as well as the start date for the show.
We can't wait to have John Torode and Gregg Wallace back on our screens for another round of nail-biting competitive cooking - bring it on!
Tune into Celebrity MasterChef on Wednesday 22nd June, BBC One at 8pm.
Celebrity MasterChef contestants
From pop princesses to reality TV stars, this year's show looks like it'll certainly make good viewing.
Scroll down to find out exactly who will be cooking up a storm this season in the MasterChef kitchen...
Jimmy Osmond
US legend Jimmy Osmond is famous for his vocal cords and not his cooking, but we reckon he'll give the show a good shot!
Simon Webbe
Once a boy band heartthrob in group Blue, Simon has had his fair share of reality fame before. The soulful singer appeared on I'm A Celebrity previously but will he have what it takes to compete in MasterChef as the heat gets turned up?
Amelle Berrabah
Part of girl band Sugababes, we think Amelle might just have a sweet tooth...
Richard Coles
Former pop-star-turned priest, Richard Coles looks to be a steady kind of chap who will listen to feedback and go about the challenges methodically.
Sid Owen
You might recognise this cheeky chap from EastEnders! Sid is another one of the celebs who has starred on reality TV before - performing on Channel 4's skiing programme The Jump.
Tina Malone
If you ever watched Shameless you'll know Tina as Mimi Maguire. We hope her use of the English language on MasterChef is a little more controlled compared to her on-screen character!
Laila Morse
Well, isn't it Big Mo? This EastEnders veteran has tried her hand at a bit of everything when it comes to reality TV - from the jungle to Dancing on Ice.
Donna Air
Stylish Donna Air is known for her acting skills and her fashion know-how - but how will she be when it comes to food trends? We can't wait to see.
Sinitta
When Sinitta appeared on cooking programme Who's Doing The Dishes, she ordered in takeaway (a la Mrs Doubtfire) so we're not quite sure how well she'll cope in the MasterChef kitchen.
Alexis Conran
As well as being an actor and a writer Alexis is also a stage magician, so we can't wait to see what tricks he gets up to when it comes to his recipes. We're expecting a lot of dry ice...
Cherry Healey
Popular TV presenter Cherry is a cheery type of soul and we suspect her and Greg will have a bit of banter around the set.
Louise Minchin
More at home on the BBC Breakfast sofa, Louise will be trading places to try her hand at wowing the MasterChef judges. We reckon Louise knows a thing or two about a classic dish...
Amy Childs
TOWIE star Amy certainly isn't shy when it comes to speaking her mind, but somehow we just can't imagine her keeping her cool under pressure.
Neil Back
Former England rugby player Neil knows a thing or two about putting in the training, so we think he'll have a very strict regime for practicing his dishes.
Audley Harrison
Audley is an Olympic boxer, so he's pretty tough under pressure which we're sure will help him sail through the first rounds.
Liz Johnson
Liz is more at home in a swimming pool than a kitchen. The 30-year-old Paralympian swimmer will have to prove to the judges that she's got what it takes to swim through the rounds.
Tommy Cannon
Lovable Tommy was one half of the comedian double act Cannon and Ball so we're expecting a fair few gags from this one. He's also had previous reality TV experience, appearing on I'm A Celeb and Coach Trip.
Marcus Butler
Part of the Vlogger superstar gang, Marcus has over 4 million subscribers to his YouTube channel! Sometimes he even does some cooking in his videos, so maybe he's got some skills hidden up his sleeve.
David Harper
If you're a fan of Bargain Hunt, Cash in the Attic or the Antiques Road Show then you'll know David is a bit of an antique's specialist. Will he know as much about food though?
Gleb Savchenko
Good-looking Gleb had Strictly fans cooing over him all last year, so we think he might just be a popular addition to this year's line up.
Rosie is an experienced food and drinks journalist who has spent over a decade writing about restaurants, cookery, and foodie products. Previously Content Editor at Goodto.com and Digital Food Editor on Woman&Home, Rosie is well used to covering everything from food news through to taste tests. Now, as well as heading up the team at SquareMeal - the UK's leading guide to restaurants and bars - she also runs a wedding floristry business in Scotland called Lavender and Rose.