Internet cheese grater hack shows how we've all been grating cheese wrong
Have you been grating cheese wrong all these years? Here's how to get it right...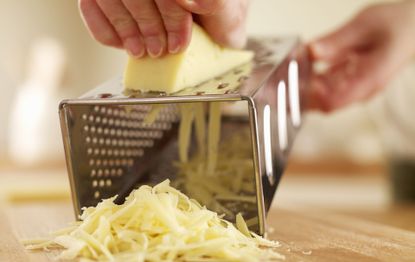 (Image credit: Getty Images)
If there's anything that is sure to make any meal more delicious it's a sprinkling of grated cheese.
A good cheese board now and then does the job, but grated cheese gives us an excuse to enjoy gooey melted cheesy goodness with everything we eat.
But covering everything in layers of cheddar also means standing at the kitchen counter for minutes on end ending up with a cramped hand.
Not to mention the inevitable nick on your freshly manicured nail and grated bits of skin you end up with before you're left with grates of cheese all over the kitchen counter and squashed into the floor.
So it's come as a revelation to many that, until now, we have probably been using our cheese graters completely wrong.
A video on Twitter has gone viral showing the correct way to use a cheese grater.
One Twitter user shared the video, originally posted on Instagram by foodie account @menuserved, showing the best way to grate cheese.
She showed her surprise at this hack with the caption: 'Ok, I was today years old when I found out THIS is how a cheese grater is used !? I feel a fool.'
Rather than standing the cheese grater up and grating the cheese up and down, which is also where the hand cramp comes from, you're actually supposed to lie it on its side and grate side to side.
Not only does this mean that you don't have to put as much as pressure on the cheddar when you're grating, or support its weight by holding up, it also means that, once it's all grated, you can simply grab a bowl or plate and tip the cheese out of the grater.
No messing around with trying to push the cheese out of the grater and ending up with a messy pile - hooray!
Aleesha Badkar is a lifestyle writer who specialises in health, beauty - and the royals. After completing her MA in Magazine Journalism at the City, the University of London in 2017, she interned at Women's Health, Stylist, and Harper's Bazaar, creating features and news pieces on health, beauty, and fitness, wellbeing, and food. She loves to practice what she preaches in her everyday life with copious amounts of herbal tea, Pilates, and hyaluronic acid.