Coca-Cola is launching a coffee coke for all the coffee addicts out there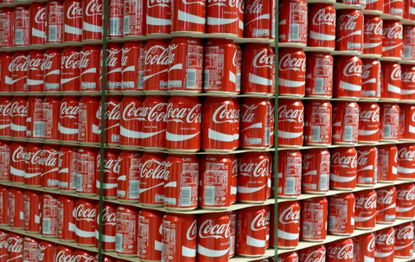 Coca-Cola fans and coffee addicts are about to get the drink they have all been waiting for...
Yes, you heard it- Coca-Cola has added another flavoured drink to its mighty collection.
We've had Coke Cherry, Coke Lime and even Coke Mango, but this time… it is a coffee flavour!
The drink is called Coffee Cola and is a cold-brewed coffee mixed with the fizzy drink creating a wild blend to add a boost to you energy.
It a perfect low-calorie beverage – containing a tad more caffeine than coke, but less caffeine than your typical black Americano.
Plus, the canned drink contains less sugar for those looking to cut down before its bikini season.
'Coke Coffee was designed to reach consumers during specific occasions and channels like the mid-afternoon energy slump at work,' said Coca-Cola CEO James Quincey speaking to the Daily Mail.
And, everyone knows exactly what after-lunch slump James is talking about.
You've demolished your packed lunch, and are slowly making your way back to your desk, only to find your energy levels have dropped and you're constantly yawning.
But now, with Coke's latest invention, you can tackle that afternoon slump with Coke's perfect blend of fizzy soda and coffee - and you'll be dancing on your desk.
Read more: Why not try our Coca-cola Chinese style chicken wing recipe? (opens in new tab)
The company is planning to release this new beverage into a whopping 25 markets before the end of 2019, and we are hoping it reaches the UK this Summer.
The drink is already available in Asia and Australia so we will have to wait until the drink reaches the market – let's hope it's soon.
If you can't wait till then, Tesco sell their very own brand of Craft Cola Coffee, and one litre of the stuff is just 45p.
Could this replace are afternoon coffee? We think so.
Sibelle Mehmet is a Junior Digital Writer at Goodto.com. She joined the team in April 2019 and was her first job since completing a MA in Magazine Journalism at City, the University of London in the summer of 2019. Sibelle previously interned at a number of national titles including OK!, Heat, Closer, Mother & Baby, and The Times Newspaper magazine. She's written extensively about the latest celebrity, showbiz, and royal news.