The top 40 foods people struggle to pronounce - how many do you know?
Are you saying fajita correctly?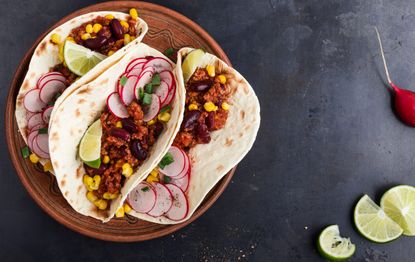 Sometimes it's hard enough to decide what or where you want to eat for dinner, but have you ever changed your order because you couldn't pronounce what you really want? If so you're not alone!
When it comes to eating out and cooking at home, people are much more adventurous these days. Supermarkets have broadened their offerings and recipe books are therefore able to recommend more exotic spices and ingredients.
Yet despite our willingness to eat more adventurous foods, our pronunciation of them is holding us back.
According to a poll of 2,000 adults, one in five have been served something completely different to what they wanted because they ordered it incorrectly!
A third of those polled admitted that they have struggled to finish their food order because they cannot pronounce what they want.
The poll was commissioned by French bakery brand Brioche Pasquier. Speaking about the results a spokesperson said: 'Not being 100 per cent sure how to pronounce a word can put people in a tricky situation. It's especially difficult if you're in a restaurant or somewhere that you can't get away with saying it wrong. Our results found people are twice as likely to have a go at pronouncing an unfamiliar food word as admit they don't know how to pronounce it.'
They added: 'This can lead to further embarrassment as people get more exciting and unusual words wrong, so it's probably best to just try and laugh it off.'
So if you've ever thought 'how to pronounce quinoa', know that you're not alone as a quarter of those polled said they had struggled when faced with it on a menu.
Read the list below with the phonetic pronunciation next to it and then you can take pleasure in knowing the right way to say things like camembert, chorizo and fajitas!
Top 40 foods and drinks Brits struggle to pronounce - and how to say it:
1.Viennoiserie (vien-noise-er-ee)
2.Caipirinha (Kai-p-ren-ya)
3.Tzatziki (tsat-si-ki)
4.Quesadilla (quesa-di-ya)
5.Bouillabaisse (boo-ya-base)
6.Quinoa (keen-wa)
7.Charcuterie (char-cut-erie)
8.Edamame bean (ed-em-mam-a bean)
9.Chipotle (chip-ote-lay)
10.Bourguignon (bourg-in-none)
11.Niçoise (nis-swarz)
12.Foie gras (fwar-gra)
13.Acai berry (ar-si-e berry)
14.Prosciutto (pro-shoe-toe)
15.Rillette (ree-yet)
16.Daiquiri (dike-ere)
17.Chorizo (chore-e-zo)
18.Gnocchi (ne-o-key)
19.Tapenade (tap-en-ard)
20.Endive (en-dive)
21.Pain au chocolat (pan-o-chocolat)
22.Maraschino cherry (mara-ski-no cherry)
23.Poutine (poo-tin)
24.Baklava (bark-lover)
25.Crudite (crude-it-tay)
26.Coq au Vin (cock-o-van)
27.Brioche (brie-osh)
28.Bruschetta (broosk-etta)
29.Camembert (cam-em-bear)
30.Jalapeno (hela-pain-nyo)
31.Fajita(fa-heat-as)
32.Guacamole (guac-a-mole-a)
33.Halloumi (ha-loo-me)
34.Pinot Noir (pea-no no-war)
35.Houmous (hum-mus)
36.Macaron (mac-a-ron)
37.Paella (pie-ella)
38.Turmeric (turm-er-ic)
39.Soufflé (souf-lay)
40.Crème Brûlée (crem-brew-lay)
Are there any words not on the list that you always struggle to pronounce or is there one that always sparks a debate in your household? We'd love to hear your stories so head over to our Facebook page to get involved!
Jessica currently works as a Senior Food Writer at Future. She writes food and drink-related news stories and features, curates product pages, tests, and reviews equipment, and also develops recipes that she styles on food shoots. An enthusiastic, self-taught cook Jess adores eating out and sharing great food and drink with friends and family. She has completed the Level 1 Associate course at the Academy of Cheese and is continually building on her knowledge of beers, wines, and spirits.