Costa Coffee will be giving away free coffees next Tuesday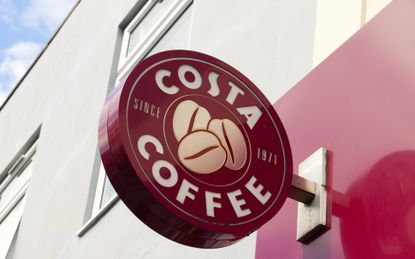 Your week just got a lot better with the exciting news that Costa Express machines will be offering free coffees for everyone next Tuesday.
The coffee chain has announced that all of its Costa Express machines across the UK will be giving out beverages on Tuesday October 1, totally on the house!
Caffeine fans can help themselves to an array of hot drinks including Americano, Latte, Espresso and Cappuccino.
If coffee isn't your thing, then treat yourself to a warming cup of tea or a hot chocolate – yum!
You can also personalise your drink using their snazzy touchscreen machines, which means that additional syrups and shots won't cost you extra.
Keen coffee fans can get their free cup from 00:15 on Tuesday October 1 till 00:15 on Wednesday October 2.
Costa are also encouraging customers to sign up to their Costa Coffee Club app, as anyone who has the app and gets a free coffee next Tuesday will be entered into a draw to win free coffee for a year. All you need to do is scan the app when asked at the Costa Express machine.
Costa's managing director Scott Martin revealed why the company is offering millions of coffee lovers a free brew, saying it was to help change people's perceptions of coffee machines.
He said: 'For years, self-serve drinks machines have carried a certain stigma.
'Freeze-dried coffee, long life milk, clumpy soups and bland hot chocolate were readily stocked in machines across the late nineties and early noughties, so we can imagine how one poor experience is enough to put someone off for life!
'We at Costa Express don't believe this is acceptable and have worked tirelessly to revolutionise the self-serve experience. Our machines serve the same fresh signature Mocha Italia coffee beans and fresh semi-skimmed milk you would expect in our Costa Coffee stores, so the quality of your experience is never compromised.
'We're so confident that once you've tried a cup from Costa Express that it'll fast become a regular part of your routine, so for one day only, we're giving away a free drink to all.'
Read more: The health benefits of tea and coffee (opens in new tab)
There are over 8,500 participating machines up and down the country, although sadly the offer doesn't extend to Costa Express machines in Northern Ireland.
Costa Express machines are located in supermarkets such as Sainsbury's and Tesco. Find your nearest Costa Express machine using the Costa store locator (opens in new tab).
Sounds good to us!