These new Drumstick and Refresher cake frostings are oh-so sweet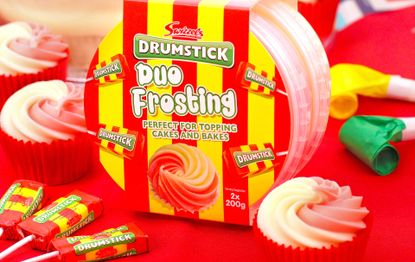 Peanut butter frosting is so last year. 2018 is all about frosting in the flavour of everyone's go-to chewy sweets.
Confectionery giant Swizzels have released tubs of frosting in Drumstick and Refreshers chew flavours. Does it get any better than that? Well in fact, it does...
The Drumstick icing echoes everyone's favourite red and yellow chew by offering you two different flavours. It comes in two separate tubs, one with the white milky vanilla and the second with the red raspberry. So you can match each individual option to the cupcakes you're making or pipe them together for the authentic Drumstick taste.
It's an easy way to encourage creativity if you're decorating with the little ones and makes it easier for you to match party colour themes – if the pink doesn't fit in with your space adventure décor, just skip on the raspberry.
For a super sweet tooth go for the sherbet lemon flavoured Refreshers frosting. It tastes exactly like the original sweets and is a zesty way to brighten up the party food table.
Tubs of frosting come in at only £2.50 in Sainsbury's, with the Drumstick goodness coming in two 200g tubs.
And if you want to entertain the kids for an afternoon, the Swizzels website suggests getting creative with cupcakes using these frostings with different forms of their matching sweets, like Drumstick Squashies, Chewy Lollies or Love Hearts.
It's not just limited to cakes either, you can even spread them on biscuits or cookies for a quick sweet bite.
But, while it would be so easy to overdo it on these dreamy sugary treats, be warned – unsurprisingly the main ingredient is icing sugar, so too much of this on your cupcakes and the kids will be climbing the walls. No rest for the wicked, hey?
All that talk of sweet stuff has got us craving a bag of Lot of Lollies. We're off to the corner shop now!
Aleesha Badkar is a lifestyle writer who specialises in health, beauty - and the royals. After completing her MA in Magazine Journalism at the City, the University of London in 2017, she interned at Women's Health, Stylist, and Harper's Bazaar, creating features and news pieces on health, beauty, and fitness, wellbeing, and food. She loves to practice what she preaches in her everyday life with copious amounts of herbal tea, Pilates, and hyaluronic acid.