Greggs is FINALLY bringing back its Festive Bake and people are already in counting down the days
Hands up who's excited?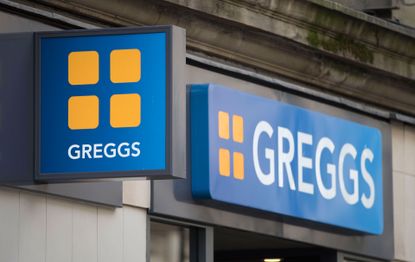 (Image credit: Matthew Horwood / Contributor/Getty Images)
Fans of the festive season are all in a flutter over the news that high street bakery chain Greggs is bringing back its Christmas pasty.
Hitting stores on November 5th, the Festive Bake packs all the highlights of a Christmas Day meal into a tasty flaky pastry shell finished off with a crumbly topping.
Fans of the festive staple will be able to sink their teeth into a filling of chicken breast, sage and onion stuffing and bacon mixed in a creamy sage and cranberry sauce.
Priced at £1.50 - the same price as 2017 – the seasonal Bake comes in at 453 calories per portion.
Excitement is so high for the product that the company has even created a website - isthefestivebakeoutyet.com - dedicated to counting down to the hours and minutes until the Festive Bake comes straight out of the oven and into consumer's hand.
And over on Twitter the talk amongst Festive Bake aficionados reached fever pitch.
One wrote: 'I know we're all excited for Fallout 76 - but I think we can all agree that it pales in comparison to the return of Greggs Festive Bake. Literally the most wonderful time of the year. Only a few weeks to go.'
Another added: '17 days till I take the first bite of what will be the 1st of the 100 Greggs Christmas bakes I consume this year.'
A third quipped: 'The only Christmas countdown I care about isthefestivebakeoutyet.com'
https://www.facebook.com/greggsofficial/photos/a.163622944775/10156699130084776/?type=3&theater
Over on Facebook, there were also a few suggestions for how Gregg's could make the Festive Bake experience even better.
One wrote: 'I used to get a festive bake every day, please bring out a gluten free version so I can resume consumption.'
While another added: 'This should be sold all year round a pasty not just for Christmas it's for life'
Which festive food launch are you most looking forward to in 2018? Join the conversation on our Facebook page!
Freelance Lifestyle Writer
Miriam Habtesellasie is a freelance lifestyle writer who has contributed content to GoodTo, Woman&Home, Women and Idealhome.co.uk. Miriam is based in London and is a fan of everything interiors, she admits to being spoilt for choice living in the capital. From stunning architecture right the way through to eye-catching department store window displays, she believes there's always an angle to be found that can translate to our abodes.