We earn a commission for products purchased through some links in this article.
We've all done it – seen an amazing kitchen appliance, and made that impulse buy. "I'll use it everyday!" you tell yourself and then it completely slips your mind until you find it 3 years later, completely devoid of battery life and covered in dust.
The internet is awash with awesome gadgets, but the ones we actually use are usually the ones we already own. Here are 19 kitchen gadgets you'll definitely be tempted to buy, but probably never ever use…
Hutzler Banana Slicer Cutter
Where can I get one? 91p Amazon
Your banana slicing days with a knife are over! Say hello to the banana slicer cutter. This genius kitchen gadget slices your whole banana in just one go. Yes, we know! The funniest thing about this gadget? Well it has to be some of the hilarious comments on the Amazon review including; 'I tried the banana slicer and found it unacceptable. As shown in the picture, the slicer is curved from left to right. All of my bananas are bent the other way.' AMAZING.
Lékué Microwave Deep Steam Case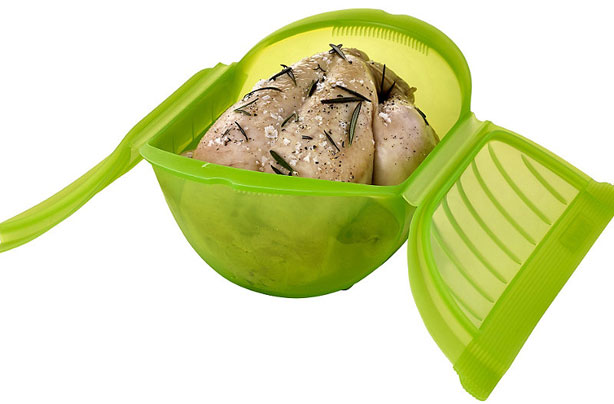 Where can I get one? £19.89 Lakeland
Apparently, you can cook a whole chicken in the microwave in just 20 mins with this latest gadget from Lakeland. MIND BLOWN. It's super easy to use and once you're done with it, you can pop it in the dishwasher to clean. We're happy with the price too, but where do you find the room to store such an item?!
The master pan
Where can I get one? £59.99 Lakeland
Doesn't this look like a fab idea? All of your major fry-up faves cooked at the same time in the same pan. It's goodbye to washing up, hello fried breakfast goodness. The downside? Well for starters the pan is MASSIVE. How does it even fit in the cupboard let along on the hob?! And that is a pretty pricey pan to buy just for the odd fry-up…
A cake batter dispenser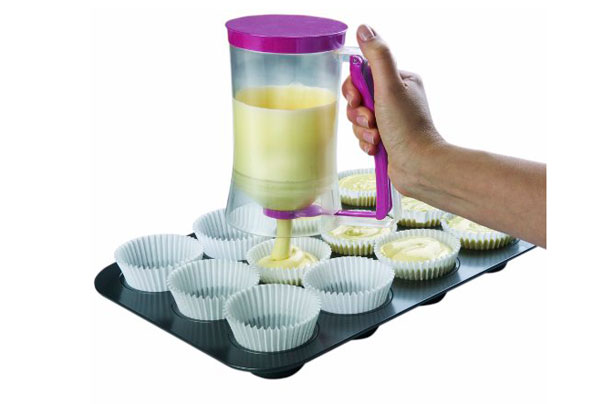 Where can I get one? £9.47, Amazon
Doesn't this look handy? This batter dispenser will give you perfectly even buns and pancakes – supposedly mess free! All you have to do is dispense your mixture into the damn thing, which is where all of the problems start. Even if you managed to fill it with batter without filling the work surfaces and kitchen floor as well, when it comes down to it, it's just another thing to wash up after the carnage of cupcake making – which, if you're anything like us, means you probably won't bother using it at all.
A hot dog toaster
Where can I get one? £49.99 Prezzybox
The look on the families face when you bring this out is worth every penny you spent on it – until you realise you only really have hot dogs for dinner about once a year, it can't cook anything other than that, and you've paid £50 for having the privilege of it cluttering up your worktops…
A Karuto sharpener and peeler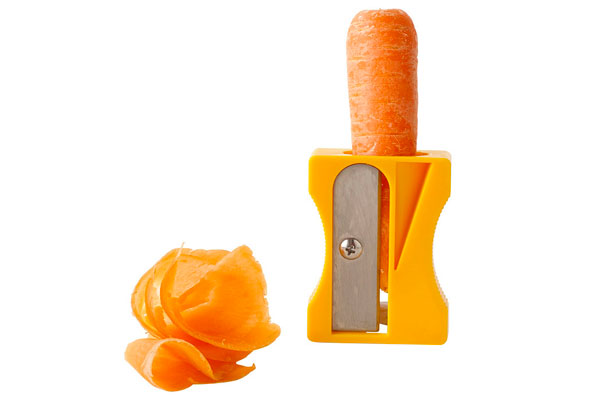 Where can I get one? £9.99, Lakeland
This quirky peeler totally appeals to our nostaglic schoolgirl side – whilst we might not need to sharpen pencils anymore, we do really like to eat carrots! It's a totally fun addition to your kitchen, but realistically, how often are you going to make spiralling carrot garnishes? Not often enough to warrant this adorable yet probably pretty useless purchase.
A Mana-tee infuser
Where can I get one? £9.03, Amazon
A mana-tee infuser – get it? This little chap is the cutest tea infuser we've ever laid eyes on, which is why it pains us to admit he's spent most of his life shoved at the back of the cutlery drawer. Yes he's super sweet, and yes, the pun never stops being hilarious, but he can only make one cup at a time, so stop faffing around and crack out the tea pot.
A condiment gun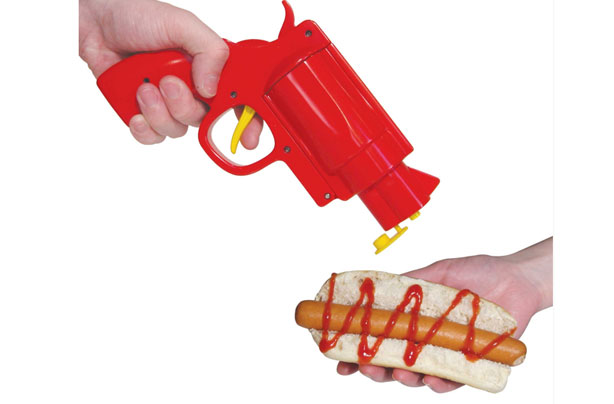 Where can I get one? £15, Just Mustard
A great partner for the hot dog toaster, you think – but ketchup and mustard already come in squeezy bottles, so you're just adding extra havoc to your jam-packed dinner-making schedule. Plus, if the kids ever got a hold of these – you'd be scrubbing ketchup off the ceiling for weeks! 
A tequila gun
Where can I get one? £29.99, Firebox
This shot serving gun gives a whole new meaning to the word 'shooters', giving you a new way to get your favourite spirit directly into your mouth. It's a great novelty gift, and you might get them out for parties, but otherwise, they're £30 not that well spent. Plus, most adults will make just as much mess with these as the kids will with the condiment guns…
A pizza cutter fork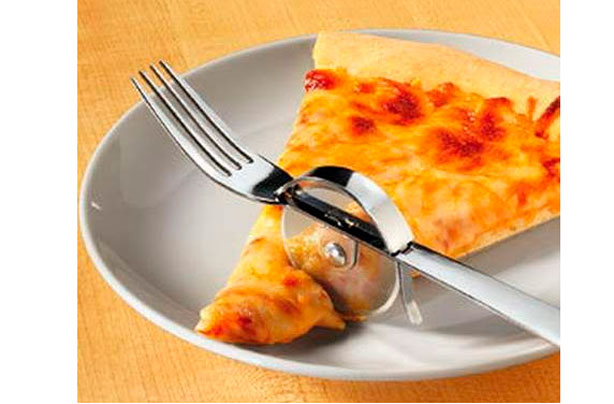 Where can I get one? Only in America! Inopro USA
Hands up if you honestly use a knife and fork for pizza? Anyone? Thought not. This wheely cutter is perfect for slicing your, erm, slice, but if you're anything like us, you'll just pick it up with your hands and bite it anyway (we all know it's the most delicious way), rendering it pretty much redundant.
A corn kerneler
Where can I get one? £7.99, Lazy Bone
This sunny yellow de-kerneler summons up joyous images of summer barbecues and eating alfresco on the patio. There really are few things as delicious as freshly roasted, buttery corn but we live in England, where you get about 6 days a year without rain, so if you want corn off the cob, you buy it in a tin!
A practical yolker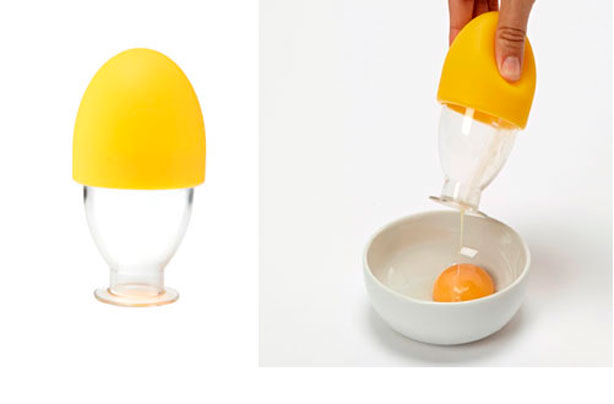 Where can I get one? £4.99, Lazy Bone
This super sucker is supposedly an easy way to seperate your yolk from your white – ideal if you're a big fan of meringue or egg white omelettes. It's so affordable that you might be tempted to pop one if your basket without thinking twice, but trust us – you'll still use the shell every time.
A bogeyman egg separator
Where can I get one? £3.99, Find me a Gift
As above, but more disgusting – the yolk gets retained instead this poor fellow's head whilst the whites drip attractively out of his sore red nose. There is a certain fun factor and the kids will LOVE it, but it's really quite revolting, and creates washing up that you won't have to do when you (we repeat) just use the shell.
A fruit and vegetable crisp maker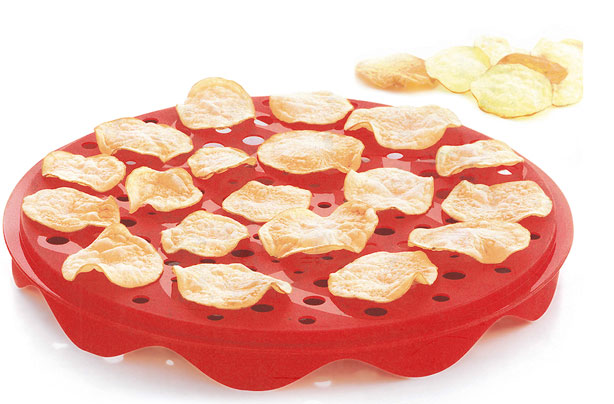 Where can I get one? £24.99, Presents for Men
Like the spiralizer, this gadget just screams 'New Year's resolution'. Its ability to make crunchy crisps out of fruit and vegetables is initially pretty impressive, but come February, it's just something to stare at guiltily whilst you stuff your face with real crisps.
A gummy bear maker
Where can I get one? £29.74, Prezzybox
This gummy bear maker allows you to fill each shape with a mixture of fruit or milk flavour jelly to create homemade Haribo-style sweets. As kids, we would have killed for one, and even as an adult, it's pretty awesome until you realise it's a glorified, fiddly jelly mould, and a lot more hassle than spending £1 on a sharesize bag at the shops.
A squirrel nutgrinder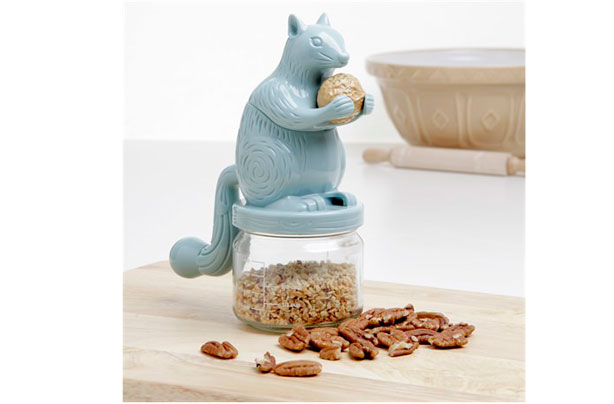 Where can I get one? £18.99, Find me a Gift
What a sweetheart! We'd trust this squirrel to guard our nuts any day – but it's highly unlikely that you'll find us grinding our own. If we're making gluten-free cakes and bakes with ground almonds or similar, we're letting the supermarkets do the hard work for us. He'll make a lovely ornament, though.
A waffle stick maker
Where can I get one? £22.99, Lakeland
This waffle stick maker is very much a special occasion kind of gadget. The results are delicious, like a new take on churros,there is absolutely no way you'll find us whipping up batter and baking these on weeknight! Stock up on chocolate sauce and dulce de leche, and you might actually get around to using this as a birthday treat. If they're lucky!
A candyfloss maker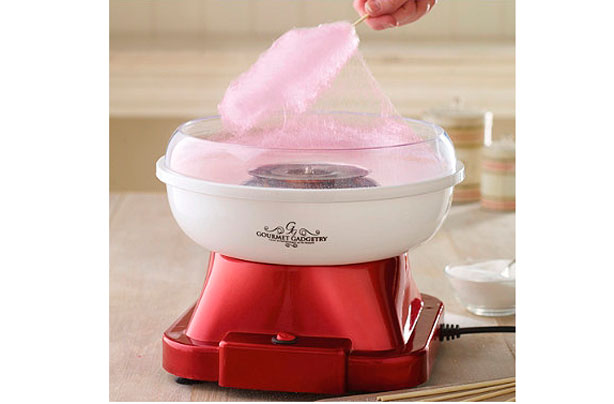 Where can I get one? £25.99, Lakeland
All of the fun of the fair in your own kitchen – what could be better? It only takes 1tbsp of sugar and a stick and you're away but if you've ever tried to clean one of these, you'll know why people who own them never use them. One experience with that sticky sugar nightmare and it'll be relegated to the deepest, darkest depths of your drawers.
A glass toaster
You can't get one – it's only a design concept for now!
We'll admit, the idea behind this glass toaster is pretty genius – no more scraping off burnt edges or dealing with soggy, lukewarm bread. But one slice at a time? Not in this house! Come back when you've made a four-piece and then maybe we'll talk.