Lidl's best-selling 99p Churros are coming back to the store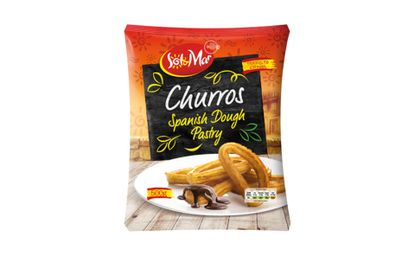 GoodTo newsletter
Sign up to the GoodTo Newsletter. You can unsubscribe at any time. For more information about how to do this, and how we hold your data, please see our privacy policy
Thank you for signing up to . You will receive a verification email shortly.
There was a problem. Please refresh the page and try again.
As much as we're all enjoying Britain's current holiday-esque conditions, it's getting to the point now when the scorching heat has got us wanting to jump on a flight to Spain for some relief.
We're not usually used to being exposed to these kinds of temperatures without a pool or beach nearby, a bikini on and a cocktail in hand.
Well, while we can't bring you Spain's sandy beaches or a jug of Sangria, we can bring you a bit of a taste of the Iberian peninsula.
As part of their Spanish week, bargain supermarket Lidl is bringing back their bestselling churros to stores this week.
Available from 9th August the ever-popular Spanish treat will come in at only 99p for the 500g of Sol & Mar Churros. That's a lot of doughnut. We'll take it.
Like traditional Spanish churros they come without sugar sprinkled on top, unlike others that are available in the UK. Though us gluttonous Brits do like a hit or two of the sweet stuff, so you could top with a bit of sugar and cinnamon for a bit of indulgence.
To eat, all you have to do is heat up the pre-fried doughnuts in the oven for 15 minutes and then serve hot with a side of chocolate.
They go nicely with Nutella or Lidl's Choco Nussa chocolate hazelnut spread version. Or if you're not feeling nutty melt your own plain chocolate or go for Lidl's Mister Choc Choco Nussa Duo Spread, which swirls milk and white chocolate together.
You could even try serving up a more authentic 'churros y chocolate' by making your own Spanish hot chocolate. Simply heat dark chocolate shavings with milk and then mix in a bit of cornflour to thicken. If you fancy it a bit sweeter add a teaspoon or two of sugar and you should be good to go.
If the churros don't satisfy your Mediterranean cravings, Spanish Week also comes with many more Iberian favourites including, Patatas Bravas with the traditional sauce, Gazpacho (Spanish tomato soup), Crema Catalana (the Spanish version of crème brulée) and Turrón (Spanish nougat).
Mmmm, Lidl has just made dinner fantástico.