You can now scoop up Lidl's award-winning bubbles for less than £5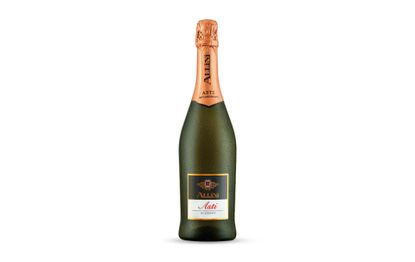 Gone are days when only the super-rich could enjoy a bottle of top-notch bubbles.
You can now find the good stuff in pretty much every supermarket you walk into and usually there's a pretty good range to choose from.
Classic French Champagne can often be found at affordable prices these days. Spanish cava or the ever-popular Italian prosecco also seem to be overshadowing pricey fizz these days.
But bargain supermarket Lidl has taken it a step further.
The high-street grocery chain is selling their Italian fizz for just £3.69. Yep that's right, you can now enjoy a full-sized bottle of bubbly for less than the price of a Boots meal deal!
Lidl's Allini Asti Spumante is from the Piemonte region of northwestern Italy, known for producing this easy-drinking sparkling wine that is a famously sweeter and less alcoholic alternative to prosecco.
With its light, refreshing taste and 7.5% ABV, compared to Lidl's Allini Prosecco Spumante DOP's 10.5%, it's an ideal option for those sweltering days when you want a refreshing tipple, but don't want so much of the hard stuff that you get a bit woozy in the heat.
Or you could use it as a summer evening accompaniment to a light salad or a chilled dessert. Sommelier app Corkscrew even selected the fizz as the perfect partner to an Eton mess pudding.
The double award-winning bottle scores an 84 on Lidl's 100 Point Rating System as a good wine and was awarded Bronze at both last year's International Wine & Spirit Competition and Decanter World Wine Awards.
So it's a pretty decent bottle of plonk.
Though with all good things in life, there is a catch. The price is part of a limited time offer at two thirds of the usual £5.49 and will be available for two days only.
Other semi-good news, those two days will be this weekend – 4th and 5th August – so you can stock up just in time for the highly anticipated (*dreaded) return of the scorching heat that's been forecast.
Enjoy!
Aleesha Badkar is a lifestyle writer who specialises in health, beauty - and the royals. After completing her MA in Magazine Journalism at the City, the University of London in 2017, she interned at Women's Health, Stylist, and Harper's Bazaar, creating features and news pieces on health, beauty, and fitness, wellbeing, and food. She loves to practice what she preaches in her everyday life with copious amounts of herbal tea, Pilates, and hyaluronic acid.