Lotus Biscoff now comes in bite sized 'nibble' form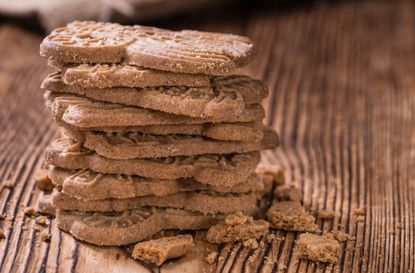 (Image credit: Getty)
Lotus Biscoff Biscuits are the ultimate sweet snack.
The Belgian born 'speculoos' biccies are downright delicious. And lucky for lovers of that unique irresistible flavour, Lotus seem to be bringing out new ways to consume it all the time.
Any Biscoff expert will most likely be familiar with the Caramelised Biscuit Spread. It comes in both smooth and crunchy varieties and allows you to feast on the delights of Biscoff in spreadable form and means you can enjoy it layered onto a slice of toast or munch it straight from the jar with a spoon. Yum.
READ MORE:Much-loved Galaxy Truffles are coming back to UK supermarkets
You can even buy Lotus ice cream lollies, so that iconic Biscoff flavour can be consumed even on the hottest of summer days.
Now, it has been confirmed that Lotus are set to launch Biscoff in tiny, chocolate covered nibble form!
The Lotus Biscoff Speculoos Rolls are little balls of the stuff coated in a layer of Belgian milk chocolaty-y goodness. It's a yes from us.
And if you thought that couldn't sound any more irresistible, the news that they're also available in white chocolate and coffee flavour could prove too much.
If you can't wait to get your hands on them, then you can head over to GBgifts (opens in new tab) where they're on sale.
Each bag of 150g retails at £5.99 and the £1.99 delivery charge added on top will tot your order up to almost £8. Needs must!
Popular Instagram snack reviewer @amyseeksnewtreats has been lucky enough to get her hands on a bag and of course gave her two cents to her 39,000 follower.
Giving her review she wrote: 'Ah man, these Biscoff Rolls are so good.
MORE:Cadbury are releasing a BRAND NEW game-changing chocolate range in the UK
'Imagine McVities nibbles but with Biscoff biscuits in the middle and you've pretty much got these sussed.'
She also provided Biscoff enthusiasts with some info on where to grab an exciting variation of the cookies they might not have tried.
Sharing a snap of chocolate covered Biscoffs, she wrote: 'You might not be able to get hold of the Biscoff Rolls (yesterday's post) easily in the UK, but you can find these beauties in ASDA, Sainsbury's and Ocado. You're welcome 😇.'