MasterChef 2017: Everything you need to know about this year's show
Gregg and John are back!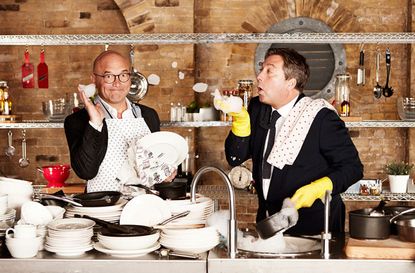 MasterChef fans, rejoice - it's not long until the show is back on our screens and if rumours are to be believed, this season is building up to be one of the best yet.
The show that has been entertaining the country since 2005, after originally airing in the 90s in a different format, will finally be back on our screens this week.
We can't wait to see what surprises are in store for us and who the contestants this year will be - here's everything you need to know about MasterChef 2017.
What's new about MasterChef 2017?
MasterChef 2017 will work mostly in the tried and tested formula of previous shows, with some new rounds added in for good measure. The first of the knock out rounds will see the 64 cooks face the Market Challenge.
A fake supermarket will be set up in the studio for contestants to browse the shelves of, before deciding what they want to cook from the produce in front of them. Ingredients will apparently come from across the world and include things like chicken, mussels and pancetta. The hopefuls will then have just 10 minutes to come up with one dish from what's in front of them to impress the judges with.
'You should be inspired by what you buy,' John says. 'If I go to a shop, that's how I start my dish - I don't necessarily plan a meal the night before. I see something on the shelf and think, "That's a good starting point."'
As ever there will be mass catering challenges and the contestants this year will have to cook for a crew and cast of 120 people working on BBC1 programme Holby City.
There will also be the usual rounds of restaurant cooking challenges where contestants will face time working in a professional kitchen for the first time.
Who will be presenting MasterChef 2017?
No need to worry - our favourite dynamic duo, John Torode and Gregg Wallace, are back to host MasterChef 2017.
John Torode is an Australian chef and presenter who has worked on Saturday Kitchen as well as all the most recent MasterChef series, while London-born Gregg Wallace started his professional life as a greengrocer but now presents for TV.
https://www.facebook.com/MasterChefUK/posts/10154159279912024
They've both been presenting MasterChef since 2005, so we really wouldn't want anyone to replace them. They'll be joined by top food critics as well as past winners to judge the various stages of the competition.
The news series will see 64 contestants competing to become MasterChef 2017. They all come from very diverse backgrounds, including an architect, a surgeon, a tiler and a musician.
Through the various rounds of the show, the home cooks will face tough guest critics, demanding challenges and of course, Gregg and John's opinions.
Past MasterChef winners
MasterChef winners usually go on to do very well in their culinary ventures, and past winners include Wahaca restaurateur Thomasina Miers and cookery book author and TV chef Shelina Permalloo.
But according to judges John and Gregg, it's not always talent that helps contestants get the MasterChef crown.
Jane Devonshire was the crowned MasterChef in 2016
'It's not the best cooks at the start that win MasterChef, it's the ones that learn the most and the quickest', they said, adding that 2016 champion Jane Devonshire proves it.
'Her development from mum, home cook, to incredible chef was just [amazing] - you know she's been working with Marcus [Wareing] at The Berkeley?! Incredible lady.'
When does MasterChef 2017 start?
The 13th edition of MasterChef UK returns to BBC One on Wednesday, March 29 at 8pm.
The edition of the show will have 25 episodes, spread over seven weeks on BBC1 on Wednesday, Thursday and Friday evenings.
Are you excited to watch this year's MasterChef? Let us know in the comments!
Trusted, informative, and empathetic – GoodTo is the ultimate online destination for mums. Established in 2007, our 15-year-strong archive of content includes more than 18,000 articles, 1,500 how-to videos, and 7,000 recipes.