McDonald's customers angry over big change to Monopoly game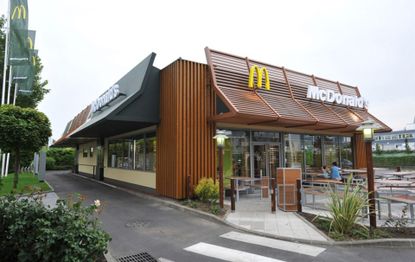 GoodTo newsletter
Sign up to the GoodTo Newsletter. You can unsubscribe at any time. For more information about how to do this, and how we hold your data, please see our privacy policy
Thank you for signing up to . You will receive a verification email shortly.
There was a problem. Please refresh the page and try again.
The iconic McDonald's Monopoly game returned just last week.
But McDonald's customers are already in uproar over a big change that has been made to the system – the reduced number of stickers.
The legendary scheme rolled out in stores last Wednesday (opens in new tab) (20th March) and fans of the popular fast food restaurant couldn't wait to get their hands on the little black Monopoly stickers that promise a whole load of freebies.
Customers were promised that millions of instant wins are up for grabs, including foodie prizes like McFlurries, apple pies and portions and French fries, and even cash prizes and TV passes.
Monopoly stickers come with the restaurant's Extra Value meals and every year the eatery usually have an option to go large and win more prizes, as the large meals will usually come with a greater number of stickers than the medium meals.
However, customers have been disappointed and outraged on finding out that this year that option has been scrapped.
The restaurant's large meals now come with the same number of Monopoly prize stickers as the medium meals.
Fans have taken to Twitter to express their fury, with one writing: 'Just had a McDonald's delievered by UberEats and my large fries didn't have a monopoly sticker on. I'm truly devastated.'
'Wasn't gonna let it bother me,' commented another, 'BUT the cheek of McDonald's changing 3 stickers to 2 on the large fries has wound me up good and proper. Won absolutely zilch.'
'I've never felt more betrayed than McDonald's changing it from 3 stickers to 2 in the large fries,' added another customer.
However, McDonald's explained that this decision had been taken in order to make the competition healthier.
'This year's Monopoly campaign sees customers receive prize labels on carrot bags, salads and our Big Flavour Wraps range,' they said, 'and we have removed the incentive to 'go large', providing the same number of prize labels and chances to win on a medium meal as you get on a large.'
They added: 'Nutrition information is clearly displayed online, on our app, in restaurant and across our packaging and we continue to review, refine and reformulate our menu to reduce saturated fat, salt and sugar.'