Morrisons is selling savoury churros filled with melted cheese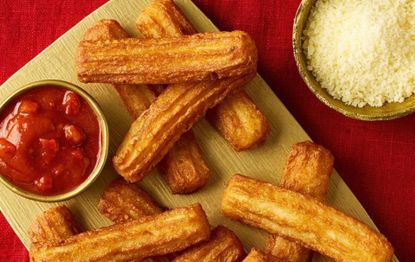 As a nation of cheese lovers, we rarely find a dish that can't be improved with an addition of the good stuff.
Pizza, pasta, toasties, even cauliflower.
And of course, you can't beat a cheese board on a cold UK winter evening either.
Thankfully supermarket Morrisons has released a cheesy treat that will be the new mozzarella dippers for your Friday night pizza night, and it even has a Iberian nod so will work for Spanish feast too.
The leading superstore is selling the traditional Spanish churros like you've never seen them before.
Morrisons has launched a giant breakfast sandwich full of fry up favourites
With a British twist on the Madrid classic, Morrisons has created crispy churros out of potato, rather than the traditional batter. And for an extra touch of indulgence the deep-fried sticks have been filled with a generous helping melted Gouda and three cheese sauce.
But that's not all! The packet also comes with a side of grated cheese for you to sprinkle on top of the churros.
And, in place of the typical warm, sweet Spanish chocolate dipping sauce? The packet comes with their chunky red pepper and tomato dip to add a bit of extra flavour to the churros and make sure you're not left with a dry mouth after munching your way through the whole lot!
You can get your hands on the delicious cheesy snacks from 12 December in store, or if you want to make sure you get to taste them before the shelves are cleared, you can place an online order on the Morrisons website and they'll be ready to collect in store from 14 December.
Added bonus? Packets are only £3.50 for 10 churros, which is a pretty good deal considering back on the Peninsula it's around the same price for only five!
It might be bye bye mozzarella sticks and hello cheesy churros from now on.
Sorry Italy, Spain might have won this one!
Aleesha Badkar is a lifestyle writer who specialises in health, beauty - and the royals. After completing her MA in Magazine Journalism at the City, the University of London in 2017, she interned at Women's Health, Stylist, and Harper's Bazaar, creating features and news pieces on health, beauty, and fitness, wellbeing, and food. She loves to practice what she preaches in her everyday life with copious amounts of herbal tea, Pilates, and hyaluronic acid.