Morrisons is selling a three-course Christmas dinner in a pasty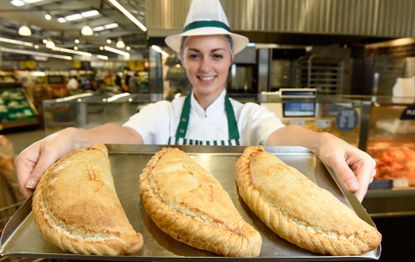 (Image credit: Morrisons)
GoodTo newsletter
Sign up to the GoodTo Newsletter. You can unsubscribe at any time. For more information about how to do this, and how we hold your data, please see our privacy policy
Thank you for signing up to . You will receive a verification email shortly.
There was a problem. Please refresh the page and try again.
We all love Christmas dinner.
But being arguably the most delicious meal of the entire year doesn't come without a whole load of effort.
You have to roast your turkey (opens in new tab), cook all your trimmings, choose a festive starter and whip up a Christmassy dessert (opens in new tab).
Not to mention all of the washing up that comes with it. And the hours it takes to actually eat the damn thing.
Plus you're usually left eating leftovers and defrosted turkey curries even after the Christmas tree has long gone.
So supermarket Morrisons has stepped in to make sure that you can enjoy an early Christmas dinner without any of the extra faff that comes with it.
They have combined the Christmas dinner with another one of the nation's favourite eats – the Cornish pasty.
Their three-course Christmas Dinner pasty is divided into thirds so that you can feast on all of the classic Yuletide tastes all in one dish.
The first third is filled with a starter of Ardennes pâté, sweet apple chutney and Melba toast.
The middle third is stuffed with all your favourite Christmas dinner classics, including turkey, stuffing, potato, pigs in blankets and cranberries.
And then last third contains your festive dessert – a traditional rich Christmas pudding topped with brandy sauce.
Bakers have even emblazoned an arrow onto the top of the crispy, buttery pastry to show which side you need to start eating from to get the full three-course Christmas dinner experience.
While we may be slightly sceptical about the combination, Morrisons say that they were inspired by traditional Cornish pasties that contained both sweet and savoury parts. So maybe we could be persuaded.
'This is the perfect grab and go Christmas dinner,' said Morrisons' pastries buyer Philippa Shaw, 'and without any of the washing up!'
You can get the hand-filled pasty for only £2.50 from Morrisons Pie Shop counters and they're available now, so get down there if you want to try one.
You'll have to be quick though as they're only available until Christmas Day – to make way for the big meal of course.