Nadiya Hussain sparks debate with unusual ingredient in her lasagne recipe
Would you try it?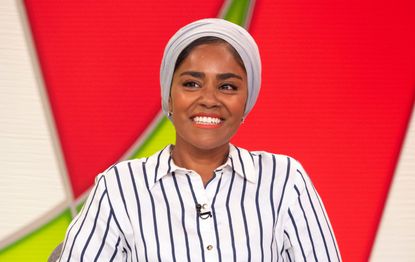 Nadiya Hussain won The Great British Bake Off back in 2015 and has been sharing lots of delicious recipes ever since.
The mum-of-three knows how to bake some impressive treats, including her show-stopping rose and pistachio choux stack and her party-perfect white chocolate crown cake.
Nadiya's latest cookbook, Nadiya's Family Favourites, features recipes from her latest show on BBC Two including a comforting samosa pie, a prepare-ahead saffron biriyani and some juicy beef burgers.
Yet one of the cook's latest recipes might raise a few eyebrows or two...
Everyone seems to be talking about the Bake Off winner's fish finger lasagne recipe. Yes, you read that right – fish fingers in a lasagne!
For some this might sound like the ultimate fusion food but others might be repulsed by the idea.
One person on Twitter described it as a 'positively gastronomic spectacle' and another said: 'What's this? Fish and lasagne sounds not like a good combination 🤔🤔🤔🤔'.
However, others were far more positive. One person wrote: 'Ooooh fish finger lasagne, lush!!!!'
Another added: 'I thought fish finger lasagne was a hoax but just read the recipe...Nadiya you legend!!'
Several have shared their own successful attempts at the recipes and revealed it was a huge hit with their family.
Speaking on Loose Women, Nadiya explained that her style of cooking has always been a fusion of her heritage as a British and Bangladeshi person and that she simply likes to produce food that tastes good.
One the subject of the fish finger lasagne, Nadiya revealed that she once ate 18 fish fingers in a sitting!
The panel, including Coleen Nolan, Andrea McLean and Gloria Hunniford were all intrigued by the recipe and Nadiya urged that people should embrace the idea and not be afraid of simply eating what they want.
She said: 'I just think we are so often told what we can and can't do, what we can eat and what we cannot...and it's just like blah blah blah.
'Just stop telling me what I can eat and what I should wear and what I shouldn't eat. Just like, I just want to eat something that is delicious on the plate and I want to enjoy it with my family and my kids and you know what, sometimes it is a fish finger lasagne and there is nothing wrong with that.'
Would you try Nadiya's fish finger lasagne recipe? Head over to our Facebook page and let us know in the comments!
Jessica currently works as a Senior Food Writer at Future. She writes food and drink-related news stories and features, curates product pages, tests, and reviews equipment, and also develops recipes that she styles on food shoots. An enthusiastic, self-taught cook Jess adores eating out and sharing great food and drink with friends and family. She has completed the Level 1 Associate course at the Academy of Cheese and is continually building on her knowledge of beers, wines, and spirits.