You can now get your hands on a ready-made Aperol Spritz-inspired cocktail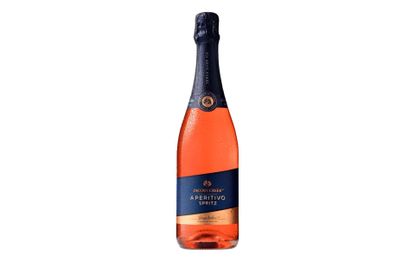 Summer isn't summer without a signature tipple of choice.
And while there are classic options like a jug of fruity Pimm's, turning wintery red wine into sweet sangria or making up a different type of G&T everyday, in recent years another option has come to the table.
Everyone's new favourite seems to be the bright orange Italian aperitivo, Aperol, in the form of the sweet Aperol Spritz cocktail.
Originally created to drink before eating to prepare the palate for food, the Aperol Spritz is now a summer favourite.
But while's seductively easy to sit down at a bar and ask the waiter to keep them coming, it's not that simple when it comes to sipping on one in the comfort of your own home.
Having to get Aperol and soda and specially open a bottle of prosecco just to have an Aperol Spritz is just not going to happen after a long, hard day but luckily that's where Jacob's Creek have come to the rescue.
Known for their diverse and easy-drinking wines, the winemakers have now created a bottle of Aperol Spritz-inspired goodness, so all you need is a glass and handful of ice and you're good to go.
Made up of zesty sweet blood oranges, bitter, fragrant botanicals and Australian sparkling wine the Jacob's Creek Aperitivo Spritz tastes exactly like an Aperol Spritz, without all the hassle.
It's available exclusively from Asda for less than £11, and at the moment is on rollback so you can stock up on a few bottles for less.
Perhaps the only drawback of this genius invention is that you can't mix it to your liking, as while some like two parts prosecco, one part Aperol for a sweeter taste, others opt for equal amounts and a more bitter taste.
But for a bottle-to-glass Aperol Spritz, we have to say it's worth it.
Aleesha Badkar is a lifestyle writer who specialises in health, beauty - and the royals. After completing her MA in Magazine Journalism at the City, the University of London in 2017, she interned at Women's Health, Stylist, and Harper's Bazaar, creating features and news pieces on health, beauty, and fitness, wellbeing, and food. She loves to practice what she preaches in her everyday life with copious amounts of herbal tea, Pilates, and hyaluronic acid.