19 retro sweets that need to be brought back IMMEDIATELY
Pacers, Joosters, Spangles, Space Dust - gone, but never forgotten. Prepare to crave sugar very, very badly...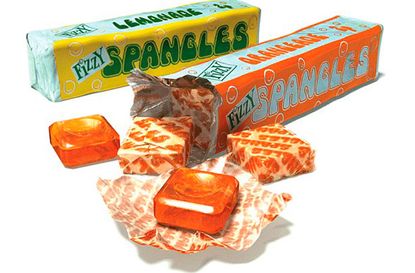 Goodto Newsletter
Parenting advice, hot topics, best buys and family finance tips delivered straight to your inbox.
Thank you for signing up to GoodTo. You will receive a verification email shortly.
There was a problem. Please refresh the page and try again.
Childhood wouldn't have been childhood without sweets! Some of our best memories centre on raiding the pic'n'mix counter, or tucking into our favourite fruity chew.
This nostalgia, however, is part of the reason that we're so disappointed that so many brilliant sweets have been taken out of production! From Pacers to Spangles, gummy Polos to Dweebs, how are we meant to relive our childhoods without their delicious E-number laden tastes?
We've rounded up 19 of the best childhood sweets that need to be brought back. Prepare to crave sugar very, very badly...
(Psst - if you're more of a chocolate person, check out our retro chocolate bars list!)
1. Mojo
Image: Twitter/Candyland You can occasionally buy these from specialist sweet suppliers online, but it's been years since we've seen one in the wilds of the grocery aisle until NOW. Yes, that's right, after 5 years of waiting and wondering, the Mojo Cola Chew is back on our shelves.
2. Pacers
Image: Telegraph These deliciously minty striped squares of joy were originally known as Opal Mints, and we couldn't get enough of their 'two mint freshness'. Sadly, they were discontinued in the 80s, but our love for them lives on.
3. Polo Gummies
Image: Jake Howlett Yes, you can still get normal Polos. You can even get fruit Polos. But you can't get the chewy Polo Gummies for love nor money, and this breaks our sugar-addicted hearts.
4. Double Agents
Image: Telegraph Hands up who remembers these boiled sweets and their gooey sherbet centres? The most common ones were the lemon ones, but we remember there being chocolate lime and strawberry and cream versions too...
5. He-Man Jellies
Image: Keep it Sweet He-Man jellies were fun to look at AND to eat. This man found one in a box of 30-year-old toys, which probably makes him the luckiest fella ever.
6. Ice Cream Chewits
Image: The Student Room Vanilla ice-cream flavoured chews? Consider us sold! Chewits did re-release these a few years ago due to massive public demand, but they've since disappeared from their website and let's face it, they didn't taste the same as the old school ones anyway.
7. Irn Bru Bar
Image: A Quarter Of People loved these so much that there's a Facebook campaign to bring them back - with over 38,000 likes! There is a Wham chew bar version available today, but fans of the original are adamant that it's not as good.
8. Joosters
Image: Out Of This Cosmos These jelly bean sweets with a sticky, almost-liquid filling were a staple of sweetlovers in the 90s, but Starburst cruelly decided to stop producing them, and there's been no sign of their fruity flavour since.
9. Lanky Larry
Image: Milly Moo's Candy Shop These bizarrely stretchy sticks of candy may have pulled out many a filling, but the taste was worth it! Our favourite was banana, but strawberry came a close second.
10. Haribo Micromix
Image: Party Delights
Why did you have to take these away from us, Haribo? Where else can we find that distinctive mix of gummy chews and liquorice squares? Nowhere, that's where - and we're absolutely gutted about it.
11. Opal Fruits
Image: Comedy.co.uk Okay, so technically, they're Starbursts - but those that got to try the originals (so, anyone born before 1998) will know that they're far superior. Blackcurrant is nice, but the seperate lemon and lime was nicer.
12. Pink Panther bars
Image: Collecting Candy Pink Panther bars were made of that pink chocolate-esque candy you often find in pic'n'mix. We've seen people describe the flavour as 'like strawberry Nesquik', which is probably the closest thing you can find these days.
13. Rowntree's Bursting Bugs
Image: British Delights Half disgusting, half a veritable party in your mouth, Bursting Bugs had a really fruity liquid centre in a chewy, gummy outside. Some fans say there's something similar being produced in Australia - road trip, anyone?
14. Dweebs
Image: Wikimedia Dweebs were like Nerds' big brother, but whilst the smaller version lived on, these Wonka favourites were kicked to the curb. We miss their softer, chewier ways.
15. Space Dust
Image: Page 45 Popping candy is a hot foodie trend, but the original (and best!) is around no longer, and we're still mourning. So many flavours, such a good pop!
16. Spangles
Image: Telegraph Boiled sweet Spangles have previously been voted the brand that British consumers would most like to see revived, so why they're not back on the shelves already is beyond us.
17. Trebor Blobs
Image: BBC Blobs were a boiled candy with a chewy centre, which came in an incredible range of flavours including Toffee Apple, Raspberry Sherbert and Banana and Pear. Why can't modern sweet makers think of combos this delicious?
18. Zappers
Image: Millie Moo's Candy Shop Ah, good old Zappers! These balls of bubble gum were so sour they made us pull extreme ugly faces, but it was all part of their deliciously tangy charm.
19. Fruitang
Image: Ytimg And speaking of tang, where the heck did Fruitang go? These chewy spin-off Fruitellas had sour, sharp sugar speckled throughout - they made our mouths water back then, and they're watering at the thought of them now...
Is there a retro sweet you loved that we've left off our list? Leave us a comment and let us know!
Parenting advice, hot topics, best buys and family finance tips delivered straight to your inbox.
Trusted, informative, and empathetic – GoodTo is the ultimate online destination for mums. Established in 2007, our 15-year-strong archive of content includes more than 18,000 articles, 1,500 how-to videos, and 7,000 recipes.