Royal pastry chef shares Queen's birthday cupcake recipe
Who doesn't love a cupcake? They're as delicious as they are charming, and no one will judge you for eating the entire thing!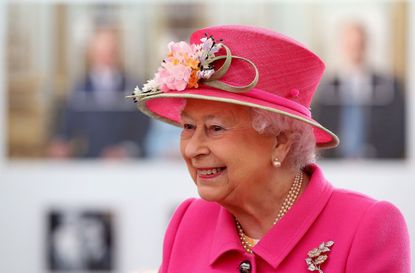 Who doesn't love a cupcake? They're as delicious as they are charming, and no one will judge you for eating the entire thing!
Whether you like to pile them high with a mountain of frosting, or decorate them with the most intricate details, we just can't get enough of cupcakes (opens in new tab). And now is your chance to make a cupcake fit for a Queen – literally!
In celebration of the Queens 94th birthday last week, The Royal Pastry Chefs at Buckingham Palace have shared a recipe via The Royal Family Facebook page.
The post read: 'Happy birthday to Her Majesty! To celebrate The Queen's birthday we are sharing a chocolate cupcake recipe from The Royal Pastry Chefs.
'If you or a loved one are celebrating a special occasion during isolation why not treat yourself to some #royalbakes? Remember to share your creations with us!'
https://www.facebook.com/TheBritishMonarchy/photos/pcb.3120850621270080/3120818521273290/?type=3&theater
As well as cupcakes, a former chef to The Queen recently shared a recipe for the perfect scones - who knows, maybe we'll have an entire Royal Afternoon Tea before long. Fingers crossed!!
Chocolate Cupcakes Makes 15
For the cake:
15g vinegar
300ml milk
50ml vegetable oil
60g butter (melted and cool)
2 eggs
5ml of vanilla essence
250g of self-raising flour
75 of cocoa powder
300g caster sugar
10g bicarbonate of soda
100g white chocolate chips
For the buttercream:
90g 70% dark chocolate
100g butter
125g icing sugar
You will need:
Preheat the oven to 150C/Gas 3. Combine the flour, sugar, cocoa powder and bicarbonate of soda into a mixing bowl.
Whisk the eggs in a separate jug, with the vanilla essence, melted butter, oil, milk and vinegar.
Slowly add the wet mixture into the dry mixture, little by little. Ensure the batter is smooth with no lumps. Finally add the chocolate chips (alternatives could be nuts, dried fruit).
Lay the cupcake cases onto a tray, use a metal spoon to equally divide the mixture into the cases. Bake for around 15-18 mins, take out of the oven when springy on touch. Leave to cool.
To make the buttercream, cream the sugar and butter together, until light and creamy. Add in the warm melted chocolate and stir.
If you have a piping bag to hand, pipe the icing on the top of cakes for decoration (otherwise gently use a teaspoon or small spatula to ice)
Royal icing* (ready to roll) method: If decorating with royal icing, roll the icing out and cut into circular disks. Lay the disc over the cupcake and mould to required shape.
Eat and enjoy!*Option to also use ready to roll icing instead of buttercream
With over 12 years of experience, arts graduate Keiron turned to food to channel his creativity, specifically cake decorating. Keiron set up his wedding cake business in 2015. And, in late 2016 won a scholarship at the world-renowned culinary institute - Le Cordon Bleu, London, where he studied the art of French Pâtisserie. He's worked in some of London's finest 5-star hotels, collecting a wealth of knowledge along the way. As a Food Writer and Stylist food isn't just a job, it truly is Keiron's passion.