Slimming World confirms that some popular 'free' foods now have to be counted as syns
Bad news for Mug Shot fans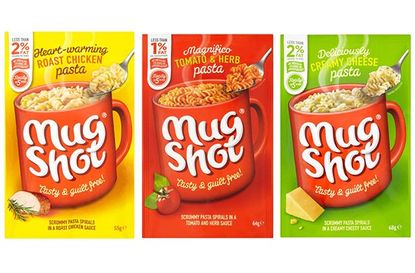 Slimming World (opens in new tab) have revealed that some of the popular foods that used to be 'free' on the plan now have to be counted in members' syn (opens in new tab) allowance.
The brand confirmed the change with a statement on their website, which read: 'The team at our Head Office who look after our food databases are always busy making sure that the guidance you get gives you the very best chance of slimming success.'
'Knowing how much the pasta (opens in new tab) and noodle (opens in new tab) "landscape" has changed over recent years, they've taken a closer look at how they evaluate the different types of pasta and noodles in snack pots and sachets.
'These extra checks have highlighted that these products are not as bulky, filling or satisfying as we thought (in fact the amount of pasta and noodles in some of them is really very low).'
'And as a result some that were previously Free now have a small Syn value ranging from ½ Syn to 3 Syns.'
Batchelors Pasta 'n' Sauce is another popular product that's been affected by the change
Plain dried pasta and noodles are still listed as free, but sachets like Mug Shots and Batchelors Pasta 'n' Sauce now have to be accounted for in daily syn allowances.
According to Gazette Live, Mug Shots now vary from one syn to up to 5.5 - the highest value being for the Sensations Mac & Cheese - whilst Pasta 'n' Sauce varieties range from from half a syn to six, for the Tuscan Sausage packet.
Many disappointed followers of the plan haven taken to Facebook to question the change, with one writing: 'When was you going to tell your members that you've changed all syn values of pot and packet pastas?? And why? I have the cheese mugshot everyday for dinner 1.5syns and its now 3?! 😩'
'Are the 1% mug shots no longer FREE? Saw on another SW page they were sinned 😢' another asked.
However, Slimming World maintained their stance and similar statements were issued in the comments.
'To make sure you can still measure the Syn value of these products we've updated our online Syns Calculator, and to get the most accurate Syn value possible you can specify the exact type of noodle or pasta that is used in the dish (e.g. rice noodles, egg noodles etc),' they wrote, adding that more detailed information was available on their site.
'You can find lots more information about this in a special feature on Slimming World Online. We know that many members rely on the convenience of these easy to prepare snack pots and sachets, and so in this feature we've also shared some alternative quick pasta recipes and Free Food alternatives which will keep you even more satisfied!'