Tesco is selling a giant Jaffa cake and you can get it for only £1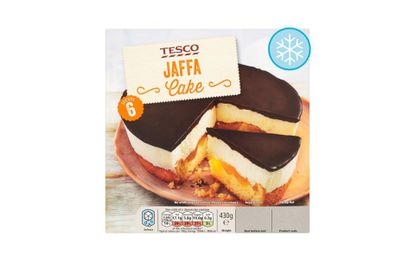 GoodTo newsletter
Sign up to the GoodTo Newsletter. You can unsubscribe at any time. For more information about how to do this, and how we hold your data, please see our privacy policy
Thank you for signing up to . You will receive a verification email shortly.
There was a problem. Please refresh the page and try again.
Many an office debate have centred on whether the humble Jaffa Cake is a biscuit or a cake.
If it's a biscuit, it is most definitely the king of biscuits. It might not be as dunkable as a chocolate digestive, a sticky Jammie Dodger or an oaty hobnob, but the sweet, smooth tangy jelly in the middle takes this biscuit (or cake) to another level.
If, however, it's a cake, which the soft sponge base would point towards, then we only have one piece of feedback. This cake is too damn small.
How people manage to get a half moon before chomping down the whole thing is baffling, we jump straight to the total eclipse.
Well, leading supermarket Tesco has taken on the cakey criticisms and gifted us with a blown-up version of the nation's favourite biscuit-cake hybrid.
Inspired by the classic snack, Tesco's Jaffa Cake cake is a full-sized dessert, here not only to fulfil our childhood (and adulthood) dreams, but to prove once and for all that a Jaffa Cake is a cake.
But before you go rushing to grab it for Tuesday's coffee morning, we will warn you that it is more of a cheesecake than a typical sponge cake, so probably more suitable for a dessert than elevenses.
Still though, Jaffa Cake-inspired cheesecake? No complaints here.
The sponge base is topped with an orange filling and an orange flavoured cream cheese mousse, covered with rich chocolate. Basically a Jaffa Cake on steroids.
And the good news keeps on coming. The reasonably priced £2 dessert is currently on a half price offer until 27th August, so you're getting even more bang for your buck than you would with an ordinary packet of Jaffa Cakes.
Fans have gone crazy on social media, getting excited about trying out the mammoth chocolate orange treat.
It serves six (or one, in our case), and comes frozen so you'll have to defrost it first.
Definitely a plus though because it gives you another way to cool down in the heatwave and means that you can stock up on them without worrying too much about use by dates.
Happy munching!