Tesco is selling half price Easter eggs that come in at only 75p each!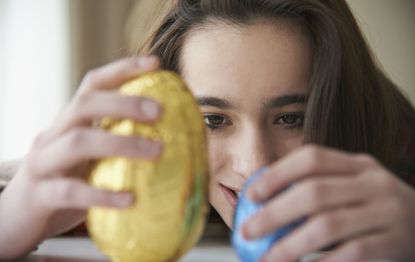 (Image credit: Getty)
Easter eggs are already everywhere.
And now that January is almost over, we're slowly allowing us ourselves to start preparing for the springtime holiday. Not that the wintery weather is helping us get in the spirit.
But it's now that time of year again when we go to the supermarket and somehow find ourselves browsing the eggs, chicks and bunnies of the seasonal aisle.
And it seems that each year we're met with more and more choice, so much so that we end up spending an increasingly high amount of money of the sugar-filled holiday.
But now leading supermarket Tesco is giving you a way to stock up for the chocolatey occasion without breaking the bank.
How to make chocolate Easter eggs
They have launched a half price sale on their Easter (opens in new tab) eggs – and prices are unbelievably low.
Originally priced at £1.50 the medium sizes of a range of their bestselling eggs are now available for 50 per cent off at only 75p each!
So they might be half price – but they're still full-size.
The offer includes Nestle chocolate products, including Smarties, Rolo, Aero and Kit Kat Chunky Easter eggs in a medium size (if you didn't already notice by the not so inconspicuous 'M' stamped on all of the boxes).
And each comes with a little surprise in the middle too.
The milk chocolate Smarties egg is filled with a portion of the childhood favourites that come in their multi-coloured sugary crispy shells.
Sporting a similar egg, the Rolo and Kit Kat offerings come with their respective chocolate inside the hollow smooth chocolate, with the Rolo egg containing two packets of the toffee-filled chocolate cups.
But the most exciting Easter egg addition has to be the one that comes with the Aero Easter egg.
The classic bubbly chocolate comes filled with Aero's special milk chocolate bubbles, which are little milk chocolates that some with the bar's traditional aerated centre.
You can get the bargain offer on Tesco's website or in stores across the country.
Want to hear about the latest supermarket products and offers? Join our dedicated Facebook group (opens in new tab)
But you better be quick if you want to get your hands on the deal, as it's only available until 5th February.
Not long to stock up!