Tesco have launched a pink flamingo cake and people are loving it!
People are going wild for this flamingo-themed cake!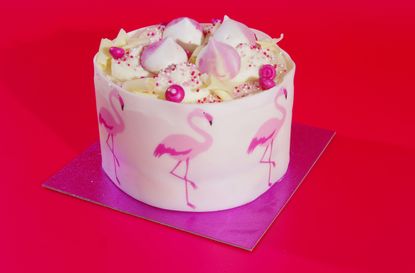 Flamingo fans are going wild for this birthday cake from Tesco which is incredibly chic...
When it comes to birthday cakes (opens in new tab), Tesco might have just raised the bar.
Last week it was reported that Marks & Spencer have launched a giant 2kg of their birthday classic Colin the Caterpillar cake (opens in new tab) but if you've got friends who want something a little more niche, this flamingo cake from Tesco is perfect.
The pink sponge cake is layered with strawberry jam and smothered in a sweet cream flavoured frosting. It's decorated with cute pink meringues, white chocolate, pink sprinkles and of course – a printed flamingo collar.
Tesco's cake is hand decorated and they say it is perfect for celebrating a special occasion. You know those times when you want to celebrate a new job, a farewell, passing a driving test or something else special but the shops all seam to be full of cakes with 'Happy Birthday' plastered across the cake or packaging – this cake is perfect.
The cake was first spotted on an Instagram account called Products in Store and people have been quick to tag their friends and exclaim that they have finally found the perfect cake for them!
One person said: 'Oh my goodness 😍 well I'll be going straight to Tesco's, love it xx'.
Another wrote: 'It's my dream birthday cake!'
A third joked to their friend: 'Wedding cake 🎂😂'.
The cake costs £12 and can be purchased from Tesco Extra or Superstores and some Metro orExpress stores. You can also order the flamingo cake online. (opens in new tab)
Flamingo fever has been increasing in recent months and Tesco isn't the only supermarket with a show-stopping celebration cake.
Marks & Spencer have an impressive flamingo cake but it's a little more pricey at £40. This cake does serve 28 people (opens in new tab) whereas the Tesco one only serves around 18.
The M&S cake is filled and covered in vanilla buttercream and topped with gold confetti and soft-icing decorations. The flamingo and pineapple decorations come separately and you have to assemble it yourself which makes it easier to transport!
This cake is only available if you order it but you are able to add a personal iced message.
What do you think of the flamingo craze? Are you a complete convert or is it definitely not your cup of tea? Join the conversation over on our Facebook page and let us know!
Jessica currently works as a Senior Food Writer at Future. She writes food and drink-related news stories and features, curates product pages, tests, and reviews equipment, and also develops recipes that she styles on food shoots. An enthusiastic, self-taught cook Jess adores eating out and sharing great food and drink with friends and family. She has completed the Level 1 Associate course at the Academy of Cheese and is continually building on her knowledge of beers, wines, and spirits.