Terry wasn't on last night's Bake Off episode and this is why
And that wasn't the only surprise for contestants and viewers...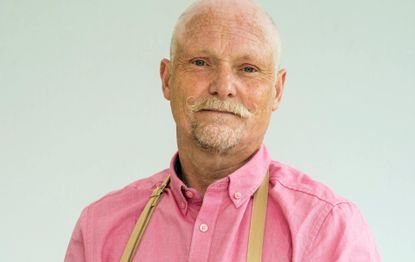 Bake Off fans were left devastated after retired air steward Terry was noticeably absent from last night's episode of the hit baking show.
Presenters Sandi Toksvig and Noel Fielding broke the news that the 56-year-old wouldn't be participating in Dessert Week due to sickness.
The news comes just a week after popular contestant Terry triumphed in the naan bread technical challenge.
Despite the sad announcement, the show's 10 remaining contestants didn't need to remain glum for long. This is because a unanimous decision had been reached to welcome Terry back to the contest next week.
And in more good news, Terry's unexpected time out from the Bake Off tent meant that none of show's bakers faced elimination.
'The person who is going home this week is nobody,' Noel explained.
'The judges felt it wouldn't be fair to send someone home with Terry not being here.'
He added: 'But the downside to that means that next week there is a strong possibility two people might be going home.'
Following this up with a joke cheer to contestants up, the comedian continued: 'And on that note, it feels weird sending no one home so I'm gonna go. See you later guys.'
Bake Off fans took to Twitter to express their dismay that Terry wouldn't be conjuring up one of his magical baking creations.
One said: 'So now we have a glimpse as to what #GBBO would look like without Terry - dull and empty. He should just have a free pass to the final when he returns next week.'
While another added: 'I miss terry. if he was here he would be making something ridiculous in this show stopper like a lifesize hot air balloon made of chocolate.'
Last night's episode of the show also attracted controversy for another surprise reason. As competitors worked their way through desserts including blancmange and langues de chat biscuits, viewers may have been distracted by a potential gaffe in the showstopper reveals.
It appeared to show presenter Sandi Toksvig head towards Rahul, leading many to suspect that he had won Star Baker. But simultaneously judge Paul Hollywood appeared to be walking towards Karen and Briony, leading viewers to ponder whether both would be up for elimination.
Neither scenario actually played out, with Dan Beasley-Harling crowned star baker and Karen and Briony remaining on the show.
We can't wait to see what treats and blips Spice Week has in store!
Freelance Lifestyle Writer
Miriam Habtesellasie is a freelance lifestyle writer who has contributed content to GoodTo, Woman&Home, Women and Idealhome.co.uk. Miriam is based in London and is a fan of everything interiors, she admits to being spoilt for choice living in the capital. From stunning architecture right the way through to eye-catching department store window displays, she believes there's always an angle to be found that can translate to our abodes.