We earn a commission for products purchased through some links in this article.
Watch how to make these really easy strawberry Santas with this simple food hack. They are a perfect to serve as a healthier Christmas nibble, even with a little cream! This is one way of eating more fruit over Christmas – and they are SO cute!
They are perfect for both kids' and grown-up's parties, especially as your guests will quickly become tired of being served mince pies everywhere else they go.
We also know how difficult it is to keep up with eating your 5-a-day in December. Unless 5 different-coloured Quality Street counts? Give yourselves a head start with these Santas, as an after-dinner treat or as an alternative treat for the children. There is only so much Advent calendar chocolate they can have.
Or try making them to leave out for the man himself on Christmas Eve? It's probably time he cut back on the mince pies anyway, isn't it…?
It doesn't take much to make this fun fruit – just strawberries, cream, edible silver balls, a sharp knife and an electric whisk.
Buy large strawberries, ideally rounder in shape. They are more stable when they are upright.
Cut the tip off the strawberry, leaving about three quarters as the base.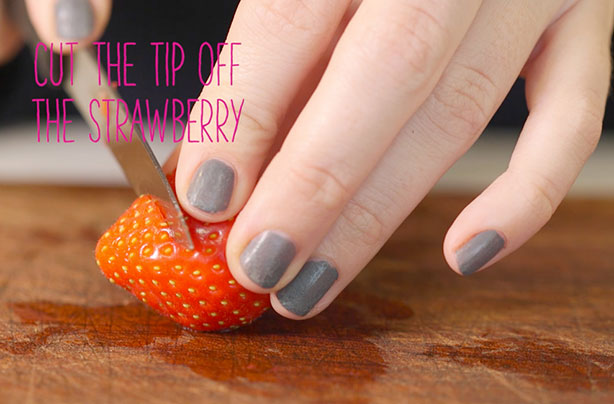 Whip double cream using an electric hand whisk. Add about 2 spoonfuls of icing sugar to ensure that the cream is extra thick and forms stiff peaks.
The biggest obstacle with these is making sure the hat won't sink into melting cream.
Scoop the cream into a piping bag with a narrow nozzle and pipe onto the strawberry base, or try using a small spoon.
You can afford to be fairly generous if the cream is firm enough.
Place the Santa hat on top of the cream, angled towards the back of the strawberry so you have enough room to put the eyes.
Gently press the edible balls into place on the front of the head.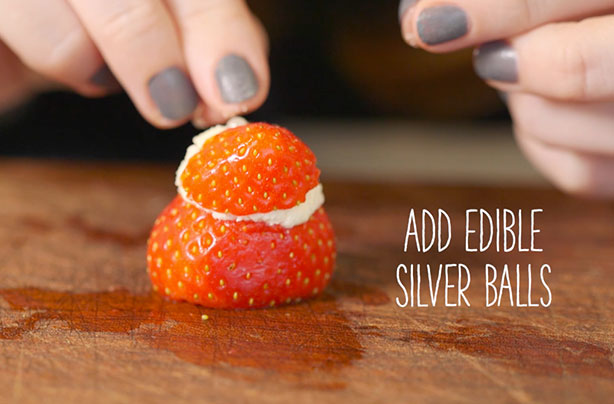 Top the Santa hat with a white bobble for a real Ho! Ho! Ho!
Have you given this food hack a go? Share your pics with us on our Facebook page: goodtoknow Recipes. We love seeing what you've been making!