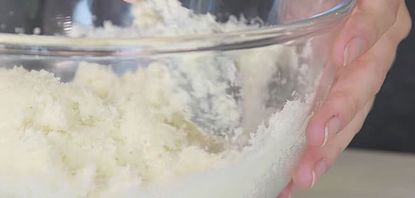 (Image credit: TI Media)
Do you love chocolate bars? Have you ever thought of making your own versions at home? Homemade bounty bars are so easy to make - you only need 3 ingredients!
The sweet coconut filling is not as hard to make as you might think, a simple combination of coconut and condensed milk will recreate the filling of the classic chocolate bar.
This recipe for 3 ingredient homemade Bounty bars shows you how easy it is to recreate this much loved chocolate bar at home. The sweet coconut filling coated in smooth chocolate is a match made in heaven.
This recipe makes roughly 10 small bars so is great for children's parties (opens in new tab), family gatherings or even Christmas gifts! Here's what readers who have already tried them out had to say about this delicious homemade bounty bars recipe.
'I have made them a few times, they are a hit...yummy!'
'Amazing'
Just thinking about this recipe makes us feel nostalgic, and pretty hungry too. We think these would be delicious with a cuppa, a no doubt we'd have more than one. After all, who can resist a sweet treat, especially when it involves chocolate?
Homemade bounty bars – Ingredients
200g desiccated coconut
1 can condensed milk (397g)
200g milk or plain chocolate
Step 1
Pour the condensed milk over the coconut and stir until evenly mixed.



Step 2
Grab handfuls of the coconut mixture and shape into bars - you can make them as big or as small as you like. Arrange on a lined baking tray or piece of greaseproof paper and allow to set in the fridge. The coconut will not go too firm but it will hold it's shape.



Step 3
Melt the chocolate, either on the hob or in the microwave, and allow to cool. Spoon the chocolate over the coconut bars and leave on a wire rack to harden. Place a plate under the wire rack to catch excess chocolate. Once a little set, put onto some greaseproof paper and place in the fridge to set.



Step 4
And there you have your finished Bounty bars - they couldn't be easier!

Where to next?
See more amazing homemade versions of your favourite treats
More naughty chocolate recipes
10 amazing things to make with Creme Eggs

Holly has over 15 years' experience understanding and creating digital content that people want to read and share. Holly's has created news and lifestyle content for brands, such Now Magazine, Best Magazine and Goodto.com.