Homemade chocolate hazelnut spread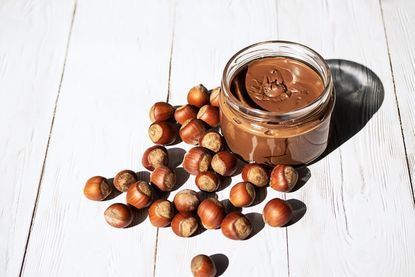 (Image credit: Evgeniya Pavlova/ Getty Images)
Chocolate hazelnut spread is a guilty pleasure of most people we know so we often find it in our supermarket baskets - but have you ever thought to make it yourself? It's surprisingly easy!
The nutty texture of the hazelnuts gives a wonderful flavour to a classic chocolate spread making it the perfect treat for breakfasts on toast or to use in your bakes - our Nutella cake has got to be one of our favourites.
If you make the spread yourself, you know exactly what's going into it. The oil helps the mixture become spreadable but you can add less if you think it looks like too much.
This spread will keep in the fridge for 4-6 weeks. If it's looking a little hard you can give it a quick burst in the microwave or just spread it onto warm toast - it'll soon melt into the bread.
If you're planning on storing your spread you will need to sterilise your jar first.
Ingredients
To make 1x 250g jar
150g milk chocolate and 50g dark chocolate, melted and cooled.
50g hazelnuts (blanched)
1tsp vanilla extract
50g icing sugar
50ml vegetable or hazelnut oil
Step 1
Pre-heat your oven to 200°C/400°F/Gas Mark 6. Spread your hazelnuts onto a baking tray and roast until golden brown.

Step 2
Whizz your hazelnuts in your food processer until fine.

Step 3
Add the icing sugar and whizz to combine.

Step 4
Pour in the vanilla extract, melted chocolate and oil and whizz to combine.

Step 5
Pour into your jar and leave in the fridge to set.

Step 6
And your homemade chocolate hazelnut spread is ready!