How to cook Padron peppers with chef Joe Howley
Padron peppers are a staple when making the ultimate Spanish feast. Chef Joe Howley shows us just how easy they are to cook.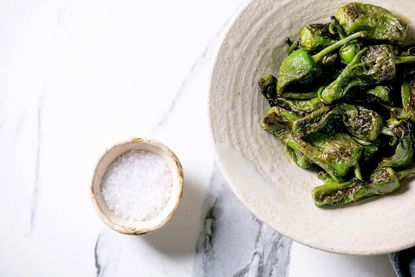 (Image credit: Getty)
Here's a quick and simple guide on how to cook Padron peppers by chef Joe Howley, and you won't believe how easy they are to cook at home.
Padron peppers are small green peppers that are mostly mild in flavour but can occasionally be hot. Better than your typical bell pepper, they are unpredictable making them a fun snack to enjoy with friends – never knowing who might get the spicy one. In Spain, Padron peppers are often served as a little tapas snack before a meal and are usually served very simply.
You can buy Padron peppers in most supermarkets as well as local gourmet retailers. Although these peppers do have a higher price mark compared to other peppers, they will complete your ultimate Spanish platter - making them one of our favourite go-to Spanish recipes (opens in new tab).
To make sure we got our hands on the most authentic way to cook Padron peppers we asked the Head Chef of The Salt Yard restaurant in London, Joe Howley (opens in new tab), to give us his top tips when it comes to cooking these tasty peppers.

It really doesn't take much to turn Padron peppers into one of the ultimate tapas recipes (opens in new tab). First, you begin by rubbing the peppers in oil and salt and then you blister them in a super hot pan to get a gorgeous charred skin on the outside - it's that simple.
Preparation: To make sure your Padron peppers taste the best they possibly can buy quality rock salt, such as Maldon sea salt, as you want to be able to taste the flavours and won't achieve this using table salt.
We also suggest using a shallow pan and some tongs when following this recipe, so that you can easily flip your Padrons over when cooking them.
Watch Joe Howley cook his signature Padron peppers dish
Ingredients:
1kg Padron peppers
25g Maldon sea salt
75ml Extra Virgin Olive Oil
How to cook Padron peppers
Step 1
Preheat your chargrill, BBQ or frying pan until smoking hot. Coat the Padrons in the olive oil and place onto the heat.
Step 2
Cook until charred and blistered.
Step 3
Season with the salt and serve immediately.
FAQs about Padron peppers
What do Padron peppers taste like?
Padron peppers are much smaller than regular peppers but are packed with flavour. Many say they have a piquant, sweet and nutty flavour that is addictive and are very appetizing alongside a sweet beer at the start of a traditional Spanish meal.
If cooked correctly at a high heat and monitored, the Padron peppers should have a soft texture. Covered in Maldon salt, they really are delicious.
They also really compliment richer tapas dishes, such as chorizo in red wine, patatas bravas and Spanish-style prawns.
Can I eat Padron peppers raw?
You can eat Padron peppers raw, however it is not recommended. Spaniards suggest Padron peppers real taste comes out when they are cooked and if reheated they will lose their flavour compared to when they are first cooked.
The flavour of Padron peppers comes through when they are eaten straight from the pan, they really are a true Spanish gem. You can keep cooked Padron peppers but for the freshest flavour, they are best kept raw and then cooked and eaten straight away.
Are Padron peppers healthy?
According to Cooked Best (opens in new tab) , Padron peppers are very good for you; "All peppers have plenty of B vitamins, and the Padron pepper is no different. Eating these delicious peppers regularly can help you keep your heart healthy."
Alongside B vitamins, Padron peppers have vitamin C, A, and capsaicinoids that can help fight off inflammation, help blood circulation and prevent high blood pressure.
They are also an excellent source of fibre and incorporating them into your diet can really help your digestive system and issues. For such an easy and tasty dish to make that will be enjoyed by everyone, they reap endless health benefits.
What to serve with Padron peppers
1. Patatas bravas
No tapas platter is complete without Patatas bravas. It is the perfect Spanish side dish, made up of soft potatoes and a rich tomato sauce infused with paprika.
To add a bit of a kick, simply add another half a teaspoon of hot smoked paprika.
Get the recipe: Patatas bravas (opens in new tab)
2. Spanish tortilla
This national dish is super quick and easy to whip up and is really versatile, simply add in any leftovers.
Cooked vegetables, chorizo, chopped bacon, sausage or grated cheese always taste great in this recipe.
Get the recipe: Spanish tortilla (opens in new tab)
3. Spanish-style prawns
Bursting with flavour, these Spanish-style prawns will transport you to Spain. Packed with rich tomatoes, fennel and sweet sherry, they will not disappoint. Serve with your choice of crusty bread.
Get the recipe: Spanish-style prawns (opens in new tab)
4. Calamari with chorizo
For all the seafood lovers, this one is for you. Packed with a spicy chorizo flavour, this dish is a great addition to your platter.
Get the recipe: Calamari with chorizo (opens in new tab)
5. Spanish pork skewers
Better known as Pinchos Morunos in Spain, these spicy pork skewers are super tasty and flavoursome.
Make sure to marinate the pork for at least 8 hours before cooking.
Get the recipe: Spanish pork skewers (opens in new tab)
Passionate about Spanish and Italian foods
Passionate about Spanish and Italian foods
Joe Howley
Joe Howley is a passionate chef, who's always looking for ideas to improve a dish. Currently head chef at Italian eatery Passo Restaurant at Shoreditch, East London, he began his career at The Three Crowns gastro pub, serving high-quality British food. During his time at Angelus Restaurant, he worked his way up to head chef and was awarded 2 Rosette restaurant awards. He's since taken the lead as head chef at Canary Wharf's Rum & Sugar and the Salt Yard group, which specialises in Spanish and Italian small plates and tapas.
Related features:
How to cook chorizo with Joe Howley (opens in new tab)
How to make Spanish omelette with Joe Howley (opens in new tab)
How to make Katsu Sando with Tim Anderson (opens in new tab)
Christina Geggus is Junior Food Writer at Goodto.com and enjoys writing about lifestyle, food, and recipes. After completing her Master's in Magazine Journalism at Nottingham Trent University and her undergraduate degree in Communication & Society and Global Studies alongside receiving an NCTJ diploma, Christina has always set her sights on a career in journalism.