Stained glass biscuit decoration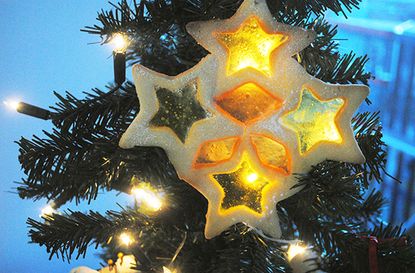 (Image credit: Future)
Give your biscuits a festive spin with just one simple addition. Melting sweets into your biscuits will give them a lovely stained glass effect which is perfect for hanging on your Christmas tree.
We've used a simple vanilla recipe for our stained glass biscuit but you could try a festive flavour such as cinnamon or ginger.
Come and see more of our creative edible Christmas tree decorations
Ingredients
For the biscuits
125g unsalted butter, softened
150g caster sugar
Pinch of salt
Few drops of vanilla extract
1 medium egg
250g plain flour
Hard boiled sweets
Step 1
Cream the butter, sugar, salt and vanilla extract together until light and fluffy. Beat in the egg and then the flour until the mixture comes together to form a firm dough. Leave it in the fridge to cool.

Roll out your dough on a floured surface. Take your two biscuit cutters and cut a shape with the larger of the two. Place the smaller cutter in the centre and carefully remove a section of biscuit - making sure there are no gaps in the edges of the biscuits (to avoid the sweets spilling over).



Step 2
Cut 4 biscuits and overlay the edges on a piece of greaseproof paper, again making sure there are no gaps in the areas you intend to fill with sweets. If you wish to hang from the tree, no is the time to pierce a hole in the dough - use a skewer or a cocktail stick to do this.

Pick your chosen coloured sweets and place them in the desired spaces.

Step 3
Bake for 8-10mins at 160°C/320°F/Gas Mark 3. Keep a close eye on the oven as you want the biscuits to be firm but still be a nice, light golden brown. Ensure the sweets are fully melted before removing from the oven.

Allow to cool and peel away from the greaseproof paper.

Step 4
Once cool, thread with a piece of ribbon and hang from your tree, ensuring a few fairy lights are well placed to shine through the 'stained glass.'

Holly has over 15 years' experience understanding and creating digital content that people want to read and share. Holly's has created news and lifestyle content for brands, such Now Magazine, Best Magazine and Goodto.com.