Here's how students can get free halloumi fries at Nando's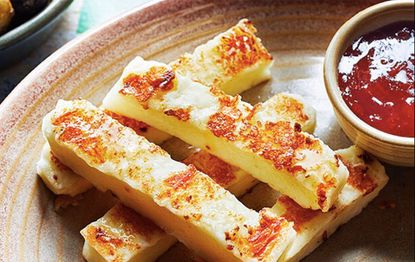 If you've got a child picking up their A-level results this month, they won't want to miss out on this.
For all the joy that student discounts bring, this might be one of the best.
Students can get free halloumi fries at Nando's, but for one day only. And sorry all you discount-scouting uni students but this one's for the younger academics.
With A-level results day looming, the chicken haven wanted to make the daunting day a little easier for those anticipating results.
So anyone who is receiving A-level or BTEC equivalent results this August can visit the South African favourite and pick up some free nosh.
On offer are any dishes from the Fire Starters section of the menu, which includes: PERi-PERi chicken wings, Houmous with PERi-PERi drizzle, Red Pepper Dip with pitta bread, Spicy Mixed Olives, PERi-PERi Nuts or the millennial favourite – Halloumi Sticks & Dip (i.e. what the nation has dubbed halloumi fries).
If you're not feeling any of them and just want plain old protein, you can opt for a free quarter chicken instead.
So how can you get this dreamy offer?
Just pop into any Nando's on results day, which is 16th August for England, Wales and Northern Ireland and 7th August for Scotland (though we probably don't need to remind you, we're sure it's imprinted in every one of your brains).
Take your results with you (good or bad, Nando's won't judge), and some ID too so they can make sure the results are actually yours.
So all you young professionals who still carry your student cards around, you're going to have to give this one a miss. And don't even try taking in those 2008 exam certificates – this'll only work if they're dated 2018.
The only hiccup? You have to spend at least £7 on your meal before you get the complimentary dish.
So either take someone along with you or just order a full meal and eat the freebie on top. We know which option we'd go for…
Parenting advice, hot topics, best buys and family finance tips delivered straight to your inbox.