17 things only die-hard Harvester fans will understand
This one goes out to everyone who knows the true elation of paying less than £10 for steak, chips and a sundae.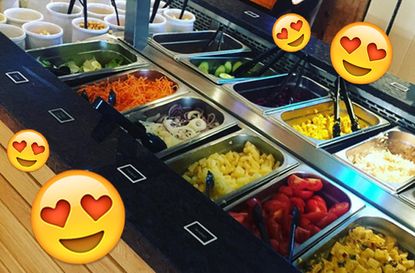 If you've just been to Harvester once or twice and think it's alright, this list is not for you.
This list is for the REAL Harvester fans: the people who know the true elation of paying less than £10 for steak, chips, and a sundae. The families that have got their Diet Pespi refill routine down. The ones whose relationship with the salad bar runs much deeper than just a drizzle of thousand island and a half-hearted crouton.
From the epic menu to the importance of a printable voucher, these are things that only die-hard Harvester fans will understand.
We'll see you at the bread roll basket, you bargain-hunting troopers.
You have no patience for people who complain about waiting for a table
Of course you have to wait for a table. It's Harvester. Everyone loves it.
Don't they know you get a fancy buzzer and a refillable drink in the meantime?
What more could you want?
And when we say refillable, we mean it
17 Pepsis is our personal record.
Menu? Not necessary
You've had your order locked down for years. Sauces, swaps, sides, done.
Though you will admit the options are endless
Chicken with peppercorn sauce and a jacket potato? Whatever you want, madam.
When they change the menu, it's fairly soul destroying if your trademark meal disappears
They really should've asked your permission first.
But then you discover something even BETTER
When they introduced the premium sides it was a total game changer. Just 50p extra for those sweet potato fries?! You've got yourself a deal.
As soon as you're seated, it's straight up to the (free, unlimited) salad bar
You know where the bowls are, you don't need any instructions (and you'll take as many as you like)
You go for 90% carbs and pile them high
There's a serious lack of green, but you make up for it in that delicious pasta, bacon bits and crispy onions.
Their potato salad is without doubt the best you've ever tasted
WHAT is in that magical sauce?!
Three words: Warm. Bread. Rolls.
You'll pounce as soon as the fresh ones are brought out. Eyes always on the prize (the prize being the wicker baskets).
By the time your meal arrives you're not even hungry, but you know you're gonna clear that plate regardless
Yep, even the pointless peas.
But you're still in awe of anyone who can finish a full mixed grill
They've basically just eaten half a farm.
Dessert is obviously a yes
You've had your free sundae voucher printed out for three days in preparation.
You still check if something's been missed off your bill every time
All that beige, and it's still so cheap?!
It's even got to the point where you know the staff members names and you have a favourite
It's you, Sharon (sorry Nick).
But you're never sad when you leave
Because you know you'll be back within the fortnight.
Or maybe even tomorrow, because did we mention they do breakfast?
Trusted, informative, and empathetic – GoodTo is the ultimate online destination for mums. Established in 2007, our 15-year-strong archive of content includes more than 18,000 articles, 1,500 how-to videos, and 7,000 recipes.